Cabins and Huts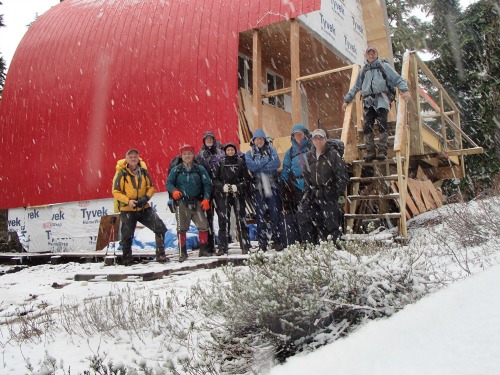 Watersprite Lake Cabin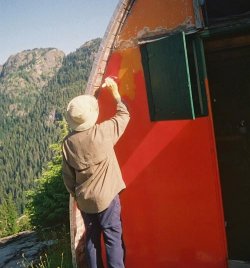 Mountain Lake Hut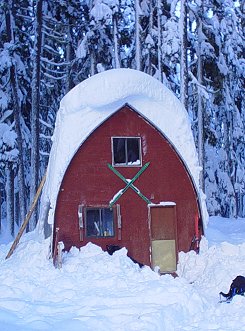 North Creek Cabin
Since 1908 the BCMC has built 12 huts of which 6 are still standing in the Coast Mountains of B.C. Two of these, in Garibaldi Park, have been donated to B.C. Parks. The remaining 4 are:
MOUNTAIN LAKE HUT - Mount Sheer, Brittania Beach - built 1970
NORTH CREEK HUT - North Creek, Lillooet Valley - built 1986
PLUMMER HUT - Claw Ridge, Mt. Waddington - built 1969
WATERSPRITE LAKE HUT - Watersprite Lake, Skookum Creek Valley - built 2016
The two huts donated to BC Parks were:
- the Russet Lake Hut, built in 1968
- the Wedgemount Lake Hut, built in 1970
You can view detailed BCMC Hut Information, including rules about the gate key for the access road.

*new* WATERSPRITE CABIN BOOKING AND RULES *new*

The door to the WSL Hut will be locked 24/7. 
Maximum booking 10 (plus two additional custodian beds).  Custodians are select BCMC members who have volunteered during the planning, trail and cabin construction phases.  Booking is $20.00 per night for non-BCMC members and $10.00 per night for BCMC members.  Until our automated booking system is implemented on the BCMC Website, Email authorization is required from either the Cabins and Trails chair (Paul Kubik) or the BCMC Webmaster (Chris Ludwig and Paul Olynek) or alternatively bcmc.cabinstrails@gmail.com
For Maps and Downloadable GPX Tracks on how to reach and access the Watersprite Lake Hut Click Here

WATERSPRITE LAKE HUT RULES
Quiet hours are 10:00 PM to 5:00 AM.  Drop in hours are 10:00 AM to 5:00 PM.  Dogs are not allowed in the cabin.  
Drop in Hours are for BCMC member only who wish to enjoy the cabin for lunch or to warm up.  These do not have to be booked.  Guests and Non-members may only enter the WSL Hut for a mid-day break if a BCMC Member is with them.  Please Email the club for the DAC code to access the cabin during Drop in Hours bcmc.cabinstrails@gmail.com or any of the three Executive members above.
Upon leaving the cabin, all members must ensure the Watersprite Cabin remains locked, which requires re-inputting the DAC code and then closing the deadbolt.

For information on Cellular Coverage at the Watersprite Lake Hut: Click Here 
Other BCMC Huts
User charges of $10.00 per person per night for the Plummer Memorial Hut, North Creek Cabin and Mountain Lake Hut are requested from non-members and are applied towards cabin maintenance. Club members have free use of these huts. BCMC camps, courses and trips have priority use of these huts. The key for the North Creek Hut can be obtained from the BCMC Cabins & Trails chair.  For more information, please contact us at bcmc.cabinstrails@gmail.com
Postal payments must be sent to:
British Columbia Mountaineering Club
PO Box 20042
Vancouver BC V5Z 0C1
Online Payment: Alternately, payments may be made online using PayPal, which enables you to pay with your credit card or PayPal account.  Begin by clicking on the Pay Now button below, then for Price per item enter the group's fee per night, and for Quantity enter the number of nights (e.g. per night for 2 nights).