Welcome to the British Columbia Mountaineering Club








Welcome to the B.C. Mountaineering Club
The BCMC is a group of like-minded individuals who participate in outdoor activities. The club was established in 1907 and in September 2019 reached a new milestone of 1,300+ active member accounts. The club organizes mountaineering, rock climbing and back country skiing trips throughout the year. The BCMC holds monthly socials, offers courses to members and represents the interests of mountaineers and back country skiers in British Columbia.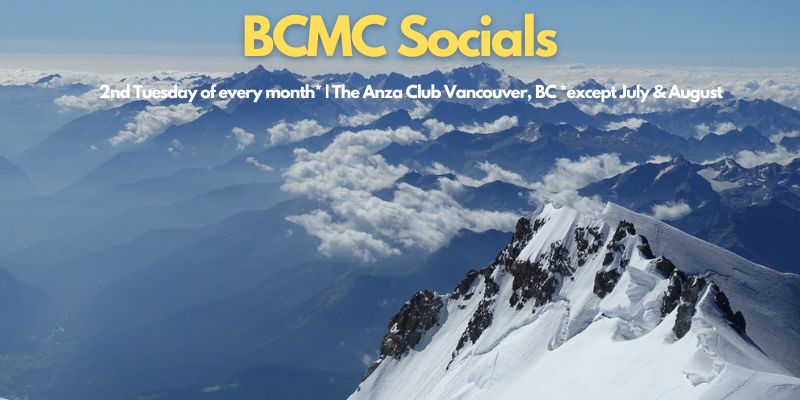 BCMC SOCIAL EVENT - December 12th, 2023 [IN-PERSON]
" Mont Blanc solo hike "
 ---
Presenter: Alex Hudson
⏰ Save the date! Prepare to be captivated by the incredible odyssey of Alex. From the terrains of Iran to the awe-inspiring heights of Mt. Blanc in France, Alex's narrative is a compelling journey through a life dedicated to conquering mountains.
Born in Iran, Alex spent most of his life hiking and exploring the Alborz and Zagros ranges, he conquered challenging summits, including the towering Damavand at 5671 meters, the pinnacle of Iran's majestic peaks. But his quest didn't stop there; Alex trekked across Canada, hiking many peaks from the Rockies to Mount Rainier, Pico de Orizaba and beyond.
 On July 12, 2021, Alex achieved a solo summit of the iconic Mt. Blanc, a feat that unveils his unwavering passion for mountaineering. Yet, what truly sets Alex apart is not just his conquests but his benevolent spirit and nurturing demeanor. A mentor to many Iranian hikers, his kindness and dedication to their success echo louder than the mountain peaks he has conquered.
In every step, Alex's passion for nature and mountains radiates, whether it's a serene day hike or a challenging overnight adventure. Join us as we delve into the heart of this extraordinary individual whose love for the mountains is not only a personal conquest but a beacon that inspires everyone fortunate enough to share in his journey.
 See you there!

Location: The Anza Club, #3, West 8th Ave., Vancouver | 19+ | Doors Open: 7:00 PM, Event Starts: 7.30 PM

Conservation & Parks Issues

The BCMC took over ownership and the management of Backcountry BC in January of 2018.  All Advocacy, Recreation and Conservation issues are hosted, discussed and handled on the new and active website. www.backcountrybc.ca Backcountry BC was built and is operated by the BCMC Web Team. ...

From Backcountry BC on Pinecone Burke: - by Chris Ludwig (posted also on Backcountry BC) "The planning process for Pinecone Burke Provincial Park is currently underway.  This planning process is to create the park's first Masterplan that will determine what is allowed and what is not allowed in the park for decades to come.  This is accomplished through zoning. ...

02.11.2023
0 comments
85 views
Category: Hiking 
Mount Baker area

27.08.2023
0 comments
214 views
Category: Hiking 
Hike "Herding screaming cats and icebergs" 26 August 2023