Welcome to the British Columbia Mountaineering Club








Welcome to the B.C. Mountaineering Club
The BCMC is a group of like-minded individuals who participate in outdoor activities. The club was established in 1907 and in September 2019 reached a new milestone of 1,300+ active member accounts. The club organizes mountaineering, rock climbing and back country skiing trips throughout the year. The BCMC holds monthly socials, offers courses to members and represents the interests of mountaineers and back country skiers in British Columbia.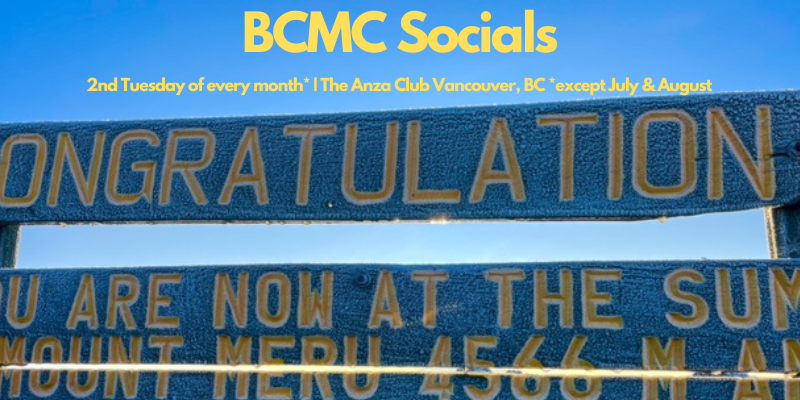 BCMC SOCIAL EVENT - Feb 14, 2023 [IN-PERSON] 
"Top of Africa - BCMC 2022"  
 ---  
Presenter: Wayne Pattern | BCMC Trips Chair | Professional Engineer 
Wayne Pattern and eight other BCMC members embarked on a three-part trip to Africa during the summer of 2022. The four-week trip included Mount Meru, Mount Kilimanjaro, and Safari. You will not want to miss this BCMC Social Event!

Pattern has been a BCMC member since 2015 and for the past three years he has been on the BCMC executive committee as a Trip Chair. He has travelled to six of the seven continents, a part-time musician and has had a wild assortment of broken bones.

Looking forward to seeing you all. 
Location: The Anza Club, #3, West 8th Ave., Vancouver | 19+ | Doors Open: 7:00 PM, Event Starts: 7.30 PM 

Conservation & Parks Issues

The BCMC took over ownership and the management of Backcountry BC in January of 2018.  All Advocacy, Recreation and Conservation issues are hosted, discussed and handled on the new and active website. www.backcountrybc.ca Backcountry BC was built and is operated by the BCMC Web Team. ...

From Backcountry BC on Pinecone Burke: - by Chris Ludwig (posted also on Backcountry BC) "The planning process for Pinecone Burke Provincial Park is currently underway.  This planning process is to create the park's first Masterplan that will determine what is allowed and what is not allowed in the park for decades to come.  This is accomplished through zoning. ...

04.10.2022
0 comments
258 views
Category: Scrambling 
Weekend adventure to a classic scramble

22.06.2022
0 comments
366 views
Category: Hiking 
Last minute evening hike up F&F in excellent weather

Taking the trails from NVan MEC potentially as far as Norvan falls but depending what folks want, we'll turn around at Lynn Headwaters.