BCMC Socials (last 3 added)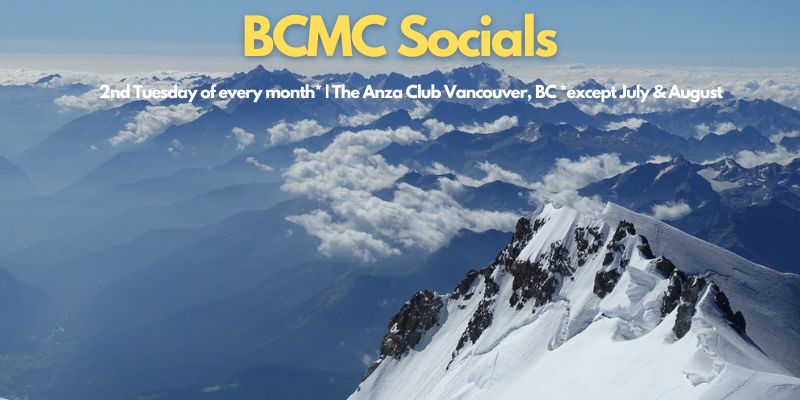 BCMC SOCIAL EVENT - December 12th, 2023 [IN-PERSON]
" Mont Blanc solo hike "
 ---
Presenter: Alex Hudson
⏰ Save the date! Prepare to be captivated by the incredible odyssey of Alex. From the terrains of Iran to the awe-inspiring heights of Mt. Blanc in France, Alex's narrative is a compelling journey through a life dedicated to conquering mountains.
Born in Iran, Alex spent most of his life hiking and exploring the Alborz and Zagros ranges, he conquered challenging summits, including the towering Damavand at 5671 meters, the pinnacle of Iran's majestic peaks. But his quest didn't stop there; Alex trekked across Canada, hiking many peaks from the Rockies to Mount Rainier, Pico de Orizaba and beyond.
 On July 12, 2021, Alex achieved a solo summit of the iconic Mt. Blanc, a feat that unveils his unwavering passion for mountaineering. Yet, what truly sets Alex apart is not just his conquests but his benevolent spirit and nurturing demeanor. A mentor to many Iranian hikers, his kindness and dedication to their success echo louder than the mountain peaks he has conquered.
In every step, Alex's passion for nature and mountains radiates, whether it's a serene day hike or a challenging overnight adventure. Join us as we delve into the heart of this extraordinary individual whose love for the mountains is not only a personal conquest but a beacon that inspires everyone fortunate enough to share in his journey.
 See you there!

Location: The Anza Club, #3, West 8th Ave., Vancouver | 19+ | Doors Open: 7:00 PM, Event Starts: 7.30 PM
---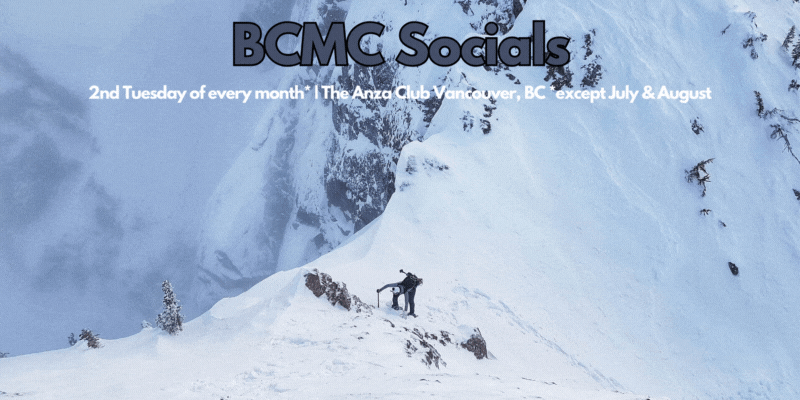 BCMC SOCIAL EVENT & Annual General Meeting* - November 14th, 2023 [IN-PERSON]
" Going into El Niño  - Snowshoeing 23/24  "
 ---
Presenter: Maria Masiar

⏰ Save the date!
With the first snow sticking to the ground, we'll cover what to expect this year regarding weather, snow conditions, gear, navigation, and recommendations for easy to hard snowshoe routes.
Join us as Maria shares her wisdom and experience, helping you prepare for a thrilling winter of snowshoeing.
She started her mountain journey by stubbornly completing the entire Matt Gunn scrambles book and donates the rest of her time as a proud member of North Shore Rescue. Maria hopes to spread winter safety and awareness as the boundaries of snowshoe terrain are ever expanding.
 *The social will commence immediately following the Annual General Meeting
Photographer: Alain B.
 See you there!

Location: The Anza Club, #3, West 8th Ave., Vancouver | 19+ | Doors Open: 7:00 PM, Event Starts: 7.30 PM
---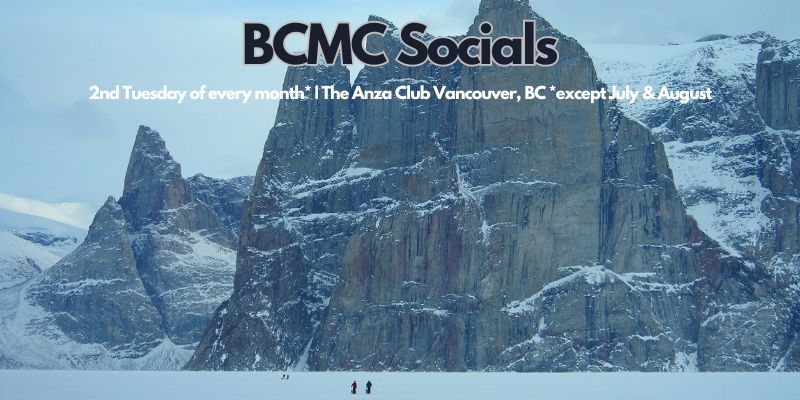 BCMC SOCIAL EVENT - October 10th, 2023 [IN-PERSON]
" One the Ice 'Baffin Island' Expeditions 2007 / 2023 "
 ---
Presenters: Chris G. Cooper
⏰ Save the date! You won't want to miss out hearing about the Baffin Island expeditions that took place between 2007 and 2023. You will get a chance to see images and hear stories of the most amazing landscapes in Eastern High Arctic.

Chris Cooper has self published a hard copy coffee table book with 60 years of expeditions and 250 mostly full size pictures.  There will be copies for sale and will be available to sign the book.

 IN SEARCH of WILD PLACES by Chris G. Cooper

The cost is $100.00

**** This presentation will be subsidized by the BCMC. While not mandatory, we will be collecting cash donations at the door to help with the subsidy. Thank you!****
 See you there!

Location: The Anza Club, #3, West 8th Ave., Vancouver | 19+ | Doors Open: 7:00 PM, Event Starts: 7.30 PM
---