The club builds and maintains the Sigurd Trail in the northern Tantalus Range in the Coast Range of British Columbia just north of Squamish. The trail rises from Squamish River through the old growth, heavily forested Este-tiwilh/Sigurd Creek Conservancy and enters Tantalus Provincial Park. The trail is popular with mountaineers climbing Pelion and Ossa Mountains and traversing the Tantalus Range. Each year, people attempt to get to Sigurd Lake and most fail.
A lot of work on the trail was accomplished in 2014. The crowning achievement was a five day camp with Peter Malacarne, myself and dog Linus. With funding from the club, we extended the trail about one kilometer into "Moraine Camp" at the glacier snout on the north side of Pelion and Ossa Mountains and flagged the route to Ossa Camp on the west ridge of Ossa Mountain.
Peter contributed some photos and I put together a couple of videos that I published on YouTube. The first video is "Sigurd Whimsy" and the second video is one for the executive committee which goes into detail of what we accomplished with the funds that were provided.
Drilling a hole for a trail marker.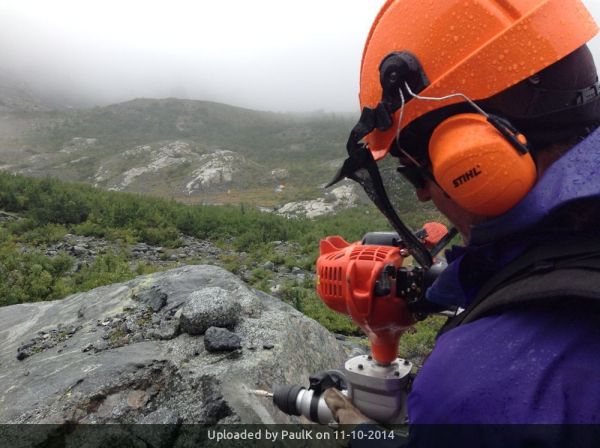 There are no comments yet