We skied from close to highway level starting at 8:40 am.  Our high point was 2100 m just above the big lateral moraine at 2:30 pm.  We wanted to be back at the trailhead by dusk at 6 pm, and were surprised to make it in only 2 hours by 4:45 pm.  The pace was relaxed, and the visibility was fantastic on the way up.  There were no problems, and everyone enjoyed the day.  We were able to find the route using map, compass and GPS. It also helped to have tracks to follow as there were two other parties on the mountain ahead of us.  Weather was partly cloudy in the morning, changing to overcast and lightly snowing in the afternoon. Avi hazard was low. Temp was around freezing in the morning, rising to about +5 C later on.
At and below treeline, snow condition was hard packed to icy. A couple of times we boot packed the steeper slippery sections while ascending and descending.  In the alpine we encountered dust on about 1" ice crust, which was breakable. We were concerned about the difficulty of skiing back down, but it turned out to be ok.  Two parties ahead of us summited Cayoosh around 2 pm. From one of them we heard there is a small cornice just below the summit that they were able to break through.  We did not require any of our glacier travel gear or ice axes.
It could be worthwhile doing this route again as a ski trip in the springtime.  There may be a need to drive or hike higher as the snowpack melts at lower elevations.
Cayoosh -- looking at Joffre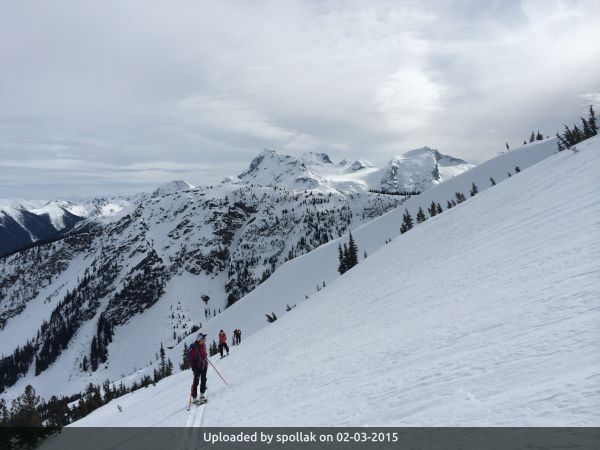 02.03.2015 (2773 Days Ago)

Backcountry Skiing

| | | | |
| --- | --- | --- | --- |
| Trip Report Title | | Cayoosh Mtn Armchair Route | |