It was another great day in the mountains!   Surprisingly for a weekday there were 3 cars at the trailhead before us.  They didn't go our way to Cayoosh Mtn, Lazy Boy maybe?  It snowed a bit, and the wind was light the whole time.  And we had uptracks to follow from the weekend (?). 
Going up from the lower logging road (no alders thankfully) we got a bit high on the rock slide before crossing through the trees, but the going was good.  It got a bit steep, we were side hilling a bit but it worked out ok.  Keeping right we crossed moraine and kept to the left side of the glacier to try to avoid any crevasses that may be inadequately covered. 
It was -6 C when we started out at 8 am and it was -6 C at our high point (2350 m) at 12:30 pm (cheap $5 MEC thermometer).   We couldn't complain about the 30 cm+ fresh snow.   Poor visibility prevented a summit attempt, but we didn't care.  Skiing down the untracked upper section was like a dream, seriously.  A party of 3 watched as we tore up the fresh snow. 
The rutschblock test we did (fun!) at 2060 m suggested an unyielding snow.  Nothing was moving!  Our probes went down 2 m.  After that, Sebastian discovered a break at 30 cm depth, but you had to work hard to get it to move a tiny bit (CTM 20 or higher).  
Looking at the GPS track on Google Earth we did actually cross some crevasses around 2300 m if the historical imagery still applies.  But we didn't notice any dips or changes in the surface snow to suggest there were any crevasse issues and everything was solid.
Taking the shortest route back down, we ended up at the cabin.  We stopped to look inside, then back up to the logging road, and we were at highway level at 2:30 pm, it was a fast day!   Home at 7 pm for dinner.
At the high point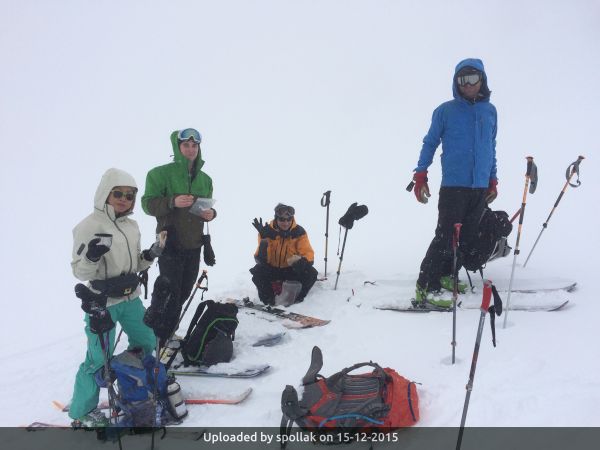 Tearing it up


15.12.2015 (2726 Days Ago)

Backcountry Skiing

| | | | |
| --- | --- | --- | --- |
| Trip Report Title | | Cayoosh Mtn Armchair Route (Dec 15) | |

GPS track -- actual route
2725 Days Ago
There are no comments yet