Participants: Paul Kubik, Bill Maurer, Michelle Hyun, Dave Robertson, Manouane
We were able to drive to 800 meters which is the big landing below the winter parking lot. We started skiing at 8:54 and skied to the summer trailhead at the dam 4 kilometers from the vehicles. The lower road was criss-crossed with alder so we went up 100 meters on a shortcut through thick trees on skis. It intersected the trail on S Line above the dam. There was very, very short couple of sections of criss-crossed alder on the S Line before it turned up S1 road. The alder was now mostly buried and travel was easy. We took the left fork near 1000 meters to go up Demon Ridge. This road reaches to 1500 meters.
The sun came out briefly at the top of the road so we stopped for lunch at 1 PM. Then it clouded over again and started to get cold. The group broke trail the last 300 meters to the ridge crest at which point it was 2 PM. We didn't have time to go to the cabin after descending the south gully. This was a first descent as far as I know. Conditions were quite good overall- mostly powder with a bit of buried avalanche debris in the lower 150 meters and a bit of wind effect in the upper 75 meters. The angle was up to an estimated 38 degrees in its steepest section. The avalanche danger was rated moderate and we detected no instability. The height of the run is 500 meters. It would appear to be a good skiing destination from the new Watersprite hut. There was a huge amount of terrain on the north side of the ridge that was very inviting- mostly alpine bowls with the prospect of big tree skiing below that.
We went out the winter route, following Dave and Gerry's tracks who had been at the cabin earlier in the week. I don't find the winter route all that great for descending. It has a lot of flat or up and down terrain so it seems like you're slogging for 3 km. The alder became a problem for the last kilometer coupled with a nice breakable crust. It was a bit nasty in about six sections.
Snow conditions were good above 900 meters on the new trail and about 1000 meters on the winter (old) trail. It was snowing when we left.

Still, if you're going to the hut, I would recommend using the winter route.

It was easy driving to the power plant on the lower Skookum. The road above was rutted snow with bare gravel. So 4WD required. But not difficult. That could have changed with new snow.
Bill skiing below tree line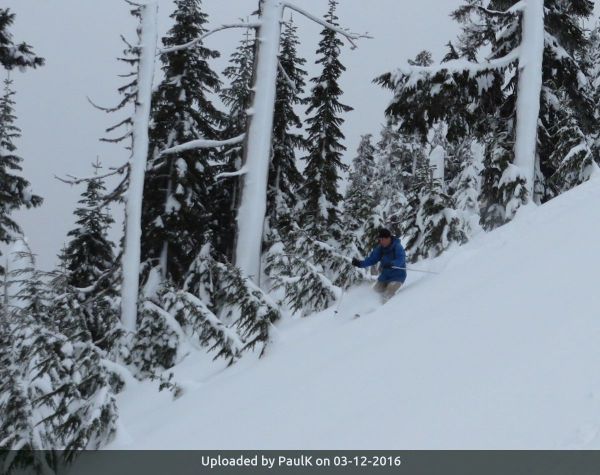 03.12.2016 (589 Days Ago)

Backcountry Skiing

| | | | |
| --- | --- | --- | --- |
| Trip Report Title | | Demon Ridge | |