Sunday, February 1st, 2015
Participants: Roger Barany, Michelle Hyun, James Milne, Darryl Leniuk, Marie Burle, Nicolas Jimenez, Andrzej Jarzabek, dog Sacha, Paul Kubik (leader)
Map of area: http://www.mappingsupport.com/p/gmap4.php?q=http://www3.telus.net/stoked/trackFatDog2015.gpx&t=t1&z=12&label=off&ll=49.11122,-120.84337
We finally received some new snow. From a smorgasbord of options, rapidly rising freezing levels on Sunday and low snowpack below 1300 meters made Fat Dog Trail the best choice for the day. The goal was to ski some terrain that the organizer had not skied before. When we reached the col before First Brother Mountain, the initial objective on its north side was in low visibility. Not inspired to go higher or ski new terrain we could not see, we descended the normal south side in strong wind and blowing snow. It was a descent of a couple hundred meters. Rather than cut the day short we opted for another run. On the way back up to Heather Trail, we decided it was not worth another run due to the wind scouring of the fresh snow down to ice. We started to retreat the way we came - retracing Heather Trail to Fat Dog Trail. Just below the trail junction, we found ourselves above a steep pitch above the head of Fat Dog Creek. It was protected from wind and the slope was enticing. As I had not skied it before it meshed well with the objectives of the day for the group. We changed plan and skied it down to the creek. Then there was a long stretch of really nice tree skiing back down to the Fat Dog Trail. The descent from the ridge was about 450 meters or more. By now we were back on Fat Dog Trail at 1600 meters elevation so we called it a day. It was a great new descent route for me and a lot more fun than the regular trail which is less steep.
Conditions for the ski out on Fat Dog Trail were really good. There was soft snow over hard crust. Unfortunately, it was warming at the parking lot and the snow was turning to sleet.
Fat Dog Trail 2015 - Lunch on the ridge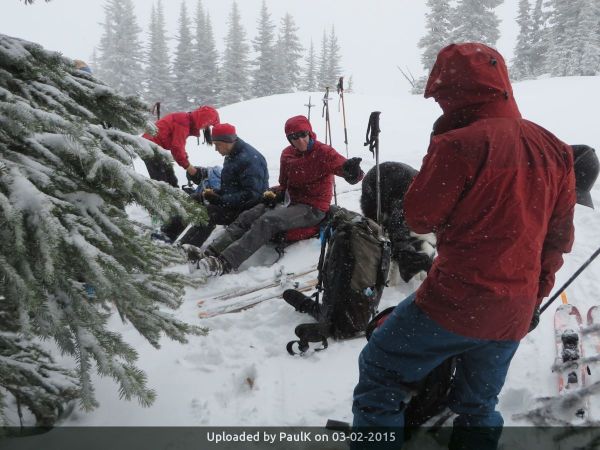 03.02.2015 (2801 Days Ago)

Backcountry Skiing

Marie wrote 2799 Days Ago (

neutral

)

0

Thanks for the day Paul and for posting a report! Looking forward to another fun trip!