I joined the "Beginner Friendly Backcountry Skiing (Baker)" trip scheduled for Dec13th, looking forward to an easy day and hopefully at least enough snow for a few decent turns, we were not disappointed.
We skied/toured in an area bordering the Mount Baker Ski area, not far from the Baker Lodge, run by the Mountaineers. The existing snow that had been pounded by recent warm, wet stormy weather was transformed into a well consolidated and bonded firm crusty layer dusted with a few centimeters of fluffy snow.This stuff was perfectly suited for getting in our turns so we could, on the way back, dodge the numerous rocks, holes, and people  between us and the parking lot.
In Search of the Elusive Turn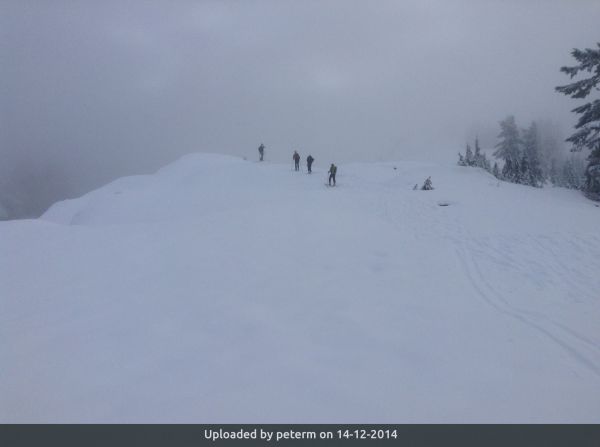 14.12.2014 (2851 Days Ago)

Backcountry Skiing

| | | | |
| --- | --- | --- | --- |
| Trip Report Title | | In Search of the Elusive Turn | |
peterm wrote 2826 Days Ago (

neutral

)

0

Sorry to take so long to get back to you Paul. Dodgy? Well yes dodgy it was, but also very skiable. If the snow had been "powder" the trip would have been a no go and a disaster to attempt. Definitely no were near enough snow to maintain float over the various hazards. Here hard pack crust conditions were........good?

PaulK wrote 2850 Days Ago (

neutral

)

0

Looks a bit dodgy, Peter.