We met in Squamish and drove to trailhead to camp. Got up around 5am and were hiking just before 6am. It was hot and muggy but we made very quick time through the forested section. There is a minor creek crossing where there used to be a cable bridge. We had to remove our boots. We made the moraine and lower glacier area for a break in 3hours. 
A little further ahead was the "camp" at the three lakes/tarns. The moraine area below looked to be a better camp spot. 
From here we scrambled up heather, boulder fields, snow, and more heather. We got more water and applied bug spray and sun screen frequently. 
Part way up there were interesting views of behind the tantalus range including part of clowholm lake. There were cairns periodically keeping us on track. Once on top of the ridge we had great views of Mount Tantalus, Ossa, mount Sedgwick, and mount Jimmy Jimmy.
The scramble was pretty easy but for the last 200m. We found our route to the summit was quite exposed. Im glad the rock was dry. We spent an hour on the summit with amazing views of Pelion and Tantalus. We improved a guest log with a pen and a small water proof notebook. A vessel with a wider mouth would be helpful. We made the summit in just over 7hrs.
The climb down went well. By the moraine camp the blisters, chaffing, and dehydration were taking their toll. Tim was going strong but I was crashing hard. The last 2 or 3kms i could hardly walk. 
We made it back to the road in a total of 13.5hrs. Excellent 2000m trip.
Ossa mountain on BC day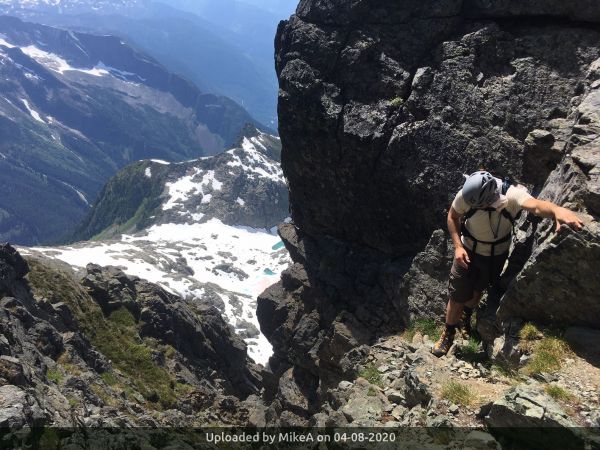 04.08.2020 (965 Days Ago)

Scrambling

| | | | |
| --- | --- | --- | --- |
| Trip Report Title | | Ossa mountain on BC day | |
jonlloydJonathan wrote 165 Days Ago (

positive

)

1

Nice! Would you have your GPS route for this trip? Thanks