Last Wednesday, 5 BCMC members joined with 11 VRCG members (www.vrcg.ca) for a PLAYgrounding session led by Trip Leader Joe Wong at a park near Main St. & 32nd Ave., Vancouver.
Joe accidentally discovered PLAYgrounding back then when he injured his finger but still wanted to climb something. Turned out it's an excellent discovery to PLAY LIKE KIDS since kids are all 5.12+ climbers. Just go to a nearby park and see almost all kids can campus on monkey bars effortlessly.
During the session, the group started with a warm-up routine which involves navigating various playground structures, gymnastics movements and some cardio exercises. Then Joe introduced some of the possible bouldering problems. After that, everyone tried out new bouldering moves. 2.5 hours passed so quickly and the group ventured to a nearby restaurant to devour a lot of food. Good times. Here are some photos.
Playground Cross Training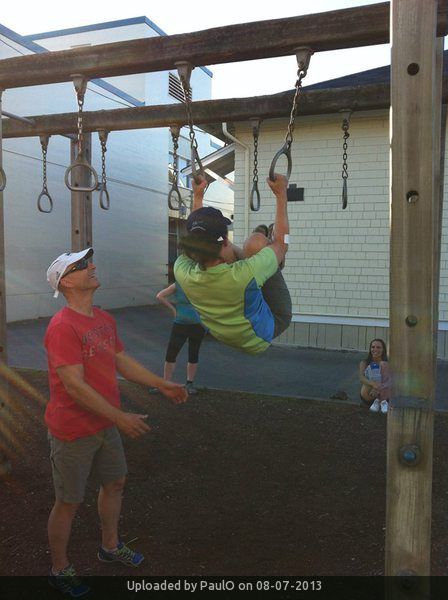 07.07.2013 (1834 Days Ago)

Rock Climbing

| | | | |
| --- | --- | --- | --- |
| Trip Report Title | | PLAYgrounding: a new sports? | |
There are no comments yet