This amazing area got my attention a year ago.  Looking over from Castle Towers last September, there was this absolutely stunning view of Phyllis Engine and the Sphinx Glacier under a clear blue sky.  I put that image on my screen saver on the first day back, and it was a daily reminder to eventually fulfill my goal of climbing Phyllis.
This time promised to be another good one with just a few clouds above us and a good forecast for the remainder of the long weekend.  There were only a handful of vehicles in the Cheakamus parking lot on Saturday morning, and later on we encountered just one other group of three with the same objective as us.  Starting from the trailhead at 7:30 am, we made rapid progress trying out the newly constructed lower section of the Helm Creek trail.  We were wondering how much higher the trail will be re-built, and we thought that the remainder of the old trail seemed to be pretty good already.  Helm glacier was down to bare ice almost to the top, and crevasses were exposed and easy to avoid or jump over, so we decided not to rope up.  We probably could have gone without crampons as well because the ice was a bit crunchy, but we put them on anyway.  About halfway up Polemonium Ridge we decided to take advantage of a local patch of snow for water and camped at 3:30 pm.
On Sunday we started out at 6:30 am.  The other group had camped at the top of Helm Glacier and were already an hour ahead of us that day, saying hi as they passed us on the way up.  But then we passed them when they missed the hidden scrambly section and tried to descend off the steep south side of Polemonium ridge.  We didn't know at that point if there was another way down or not, so we didn't say anything to them.  They seemed to be stalled on the ridge for a while, maybe they intended to rappel to the talus slope.  By the time we saw there was no easy way down for them on that side, we were too far away to advise them.  We watched them below us as we traversed up the snowfields and rock outcrops towards Sphinx glacier.  They hiked back up the ridge, and then we lost sight of them.
Coming around the base of Castle Towers, the regular way is to go straight up the farthest lobe of the Sphinx glacier and traverse right.  We roped up and opted to stay low, crossing a mix of small snowfields and exposed rock before ascending the glacier.  It may have been faster to go the regular route and get on the glacier right away, but the upper portion was not visible to us and we were not sure about how it would go.  En route, a couple of pickets helped us on the steeper sections of snow, but the rock didn't require any protection.  The glacier had some bare ice with big open crevasses and occasional snow filled slots.  We had four ice screws to protect the lower steeper section, so we could avoid the thinner snow and go around some of the wider crevasses which we couldn't jump across.  Running belays and occasional hip belays got us safely to the base of the Phyllis tower, where we took a short break around 10:30 am.
The Phyllis Engine tower was just a lot of fun!  We did it in three short pitches, taking turns leading on my 60 m half rope doubled up, alternating clips.  We kept my other half rope as a spare.  That turned out to be useful because the climbing rope end knots got stuck when we tried to retrieve it after the first rappel.  Although the existing anchor cordellettes and quick links looked pretty good, we backed them up with some webbing for the ascent.  We generally felt it was safe enough to re-use all the existing stuff for the rappels.
Mine was the first pitch on the rock, a corner followed by a nice hand-sized splitter crack which ate up medium sized nuts and cams.  David dispatched the second pitch with ease, negotiating a short traverse then a corner crack followed by a wide unprotectable chimney to reach the belay.  Actually the rope was a bit short, and he had to set up an intermediate belay with his remaining gear using a couple of cracks a few metres away from the existing belay station.  After we belayed eachother over there, Brad got the glorious final pitch, with a couple of exposed steep cracks to test his willpower.  We had the rock all to ourselves and summited at 1:40 pm.
The descent was straightforward.  When the rope got stuck, we used the second rope to get down to the knots from an intermediate anchor station that we found at the base of the chimney.  Instead of taking the exposed ice section of Sphinx we found it was faster to skirt around more to the south and stay on the snow.  Below the glacier Brad spotted a lone pure white goat which had come over to check us out, that was cool.  We were back at camp by 7:30 pm.  On Monday we were on our way down at 6:45 am and reached the truck at 12:30 pm.
I would like to speak for the group and say that this was such a rewarding trip!  I would highly recommend it for reasonably experienced mountaineers, especially around this time of year when conditions are optimal.  I believe the Phyllis Engine route offers a nice mix of hiking, scrambling, glacier travel and rock climbing.  Three days provided adequate time for us to enjoy ourselves thoroughly while we ascended and descended safely.  We used most of our gear and were able to test our mountaineering skills in a beautiful setting.
Roping up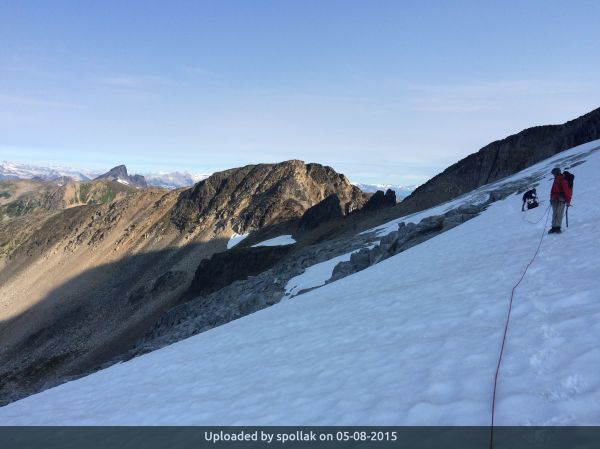 05.08.2015 (1195 Days Ago)

Mountaineering

| | | | |
| --- | --- | --- | --- |
| Trip Report Title | | Phyllis Engine | |

GPS track from Phyllis summit down to Polemonium camp
1195 Days Ago
There are no comments yet