Sunday, November 3, 2013
Participants: Paul Kubik (BCMC), Andrew Wong (NSH),  Wolf Eilers & Karl Schimman (unaffiliated)
We parked at the start of the Sigurd Trail and carried up the following tools: 20-inch chainsaw, 3-meter pole saw, Pulaski, bent shovel and loppers. It was a stiff climb with the heavy tools. About one hour from the vehicle we came to the Rose Trail junction with Sigurd Trail. For the first half hour or so we cleared a new section of trail to remove a dog leg in the trail that caused unnecessary elevation loss. I tackled some of the bigger downed trees with the 20-inch chainsaw that thwarted earlier parties. I tried to make the trail more easily followed in the high snowpack the area normally receives. We had a great ski descent of Sigurd Peak's north face last winter but the climb up the trail was sketchy and more than a little brutal.
After lunch near 700 meters ASL, Wolf and Karl climbed higher to check out the work above. Around 1:30 PM they hailed us over the 2-way radio that they were in a large blowdown patch around 900 meters. I went down to the lunch spot for more fuel then climbed 200 meters up to the blowdown section. Some quick work with the chainsaw and some rerouting restored the trail to something more reasonable. After that, it was time to call it a day. We arrived back at the trailhead around 4 PM.
Rose Trail: Snow pillows near 1100 meters in mid-winter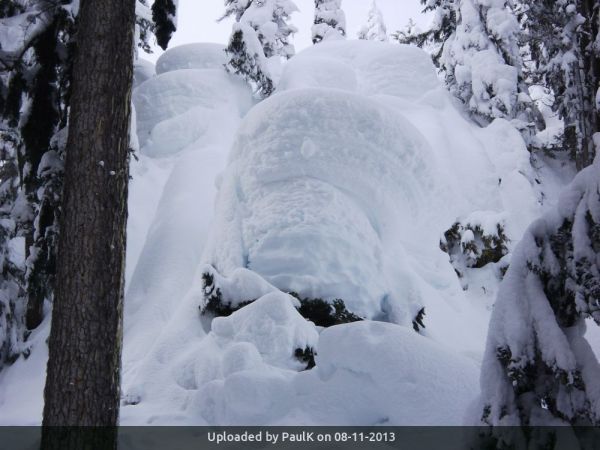 08.11.2013 (2744 Days Ago)

Hiking

rose trail
sigurd peak
| | | | |
| --- | --- | --- | --- |
| Trip Report Title | | Rose Trail clearing | |
FrancisStPierre wrote 2728 Days Ago (

positive

)

1

That's a lot of gear to haul up! Great job!