I picked up Bruno in Vancouver a little late, but we managed to get to Whistler by 10:00am for another good day of spring skiing, well good but not that good, spring skiing. The window of really good spring skiing has passed. The conditions today were OK, but it was warm, cloudy with sunny breaks, the ski-able area has been rapidly shrinking. The snow was very sticky and grabby and exhausting to ski. No waiting at the lifts though, just ski in, get on ride up.
Many moguled zones had features the size of small cars with occasional dirt patches or rocks. We did hit Pakalolo and it was fun, it had those small car sized moguls in it, but with the soft spring snow, skiing the chute was a breeze, easy to get an edge in, and plenty of fun. At the bottom of Pakalolo I just let'er rip, as the slope began to level out, the sticky snow did its thing and I slowed me down so fast I almost did a header, damn. There was plenty of that sort of thing all day. We passed on skiing the Blackcomb Glacier, the crappy ski out was to much of a price to pay. At the end of the day, I called it quits for the season for me, I had more than enough of sticky wet snow. Bruno had ambitions for one more back-country day before pulling the plug on this season. All in all, a nice ski day ending the 2015/16 season.
On the way home, we hit the Locavore food truck in Squamish. Mmmmmm.......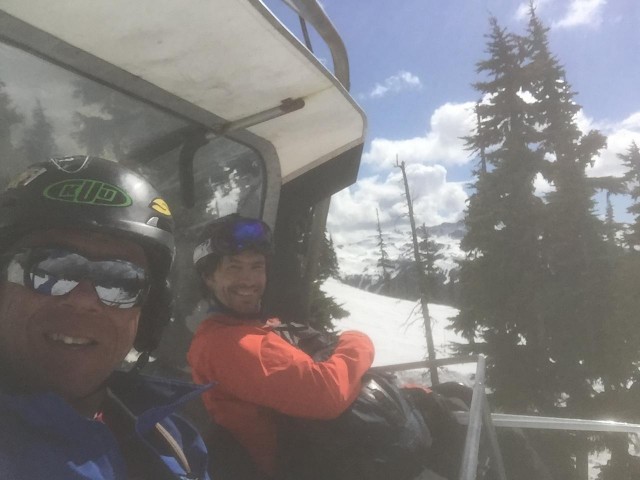 Me                                                                      Bruno

08.05.2016 (1721 Days Ago)

Mountaineering

| | | | |
| --- | --- | --- | --- |
| Trip Report Title | | Skiing Groomers at Whistler(again) | |
There are no comments yet