The weather forecast was originally for rain, so we expected to be making more use of the hut, but by the time the long weekend arrived, it was sunny and warm. Our group of eight met at the gas station in Squamish before repacking into just two cars for the drive up the service road. Some work had been done on the worst parts of the road, but it still required being slow, and cautious. We did see some cars without all-wheel-drive, but they were either parked 2km from the trail-head, repairing a flat tire, or leaking oil.
On Saturday (Nov 9) there was just a sprinkling of snow at the start of the trail, and it only got a little heavier as we worked our way up. Between stopping for lunch, and being cautious scrambling over the rocks it was a 4.5hr hike up. We arrived to find the cabin already warm since there were a couple of BCMC custodians at the hut (David Scanlon, and Ed).

The cabin is amazing. It's sealed well enough that there were no mice. Water from the creek is just a short walk away, the view of the sunset from the porch is great, the foam sleeping pads were nice (even though I think everyone brought their own), and the fire keeps things cozy (almost too hot at times so I regret not bringing a cooler sleeping bag).
The custodians were very helpful. In addition to David calling me on Friday to let us know the road and trail conditions, and helping chase away the dozens of day hikers over the weekend, He and Ed also offered a number of great suggestions for hikes in the area -- and left footprints in the snow to follow. As a result on Sunday the group split up. Some headed up Martin Peak, some up Watersprite Tower, and some did both.
While we were hiking on Sunday David was working on building a trail up to Demon Ridge (I'm not sure if it's possible to connect to the Demon Ridge trail that branches off the Watersprite Trail, but that would be an interesting alternate route to try in the summer). Some of the group explored the new trail on Monday before hiking out.

Great people, cabin, scenery, and weather made for an amazing long weekend.
WaterspriteGroup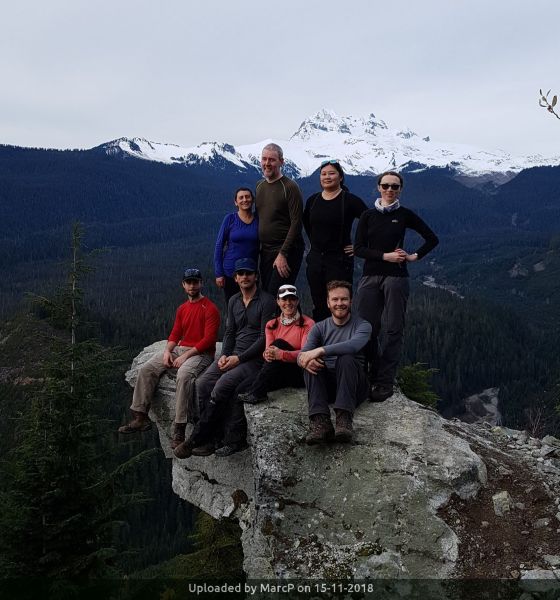 There are no comments yet