Thank you Whitney for kicking my butt back into gear to post these terribly overdue resources from my "Weather Workflow 20211221" presentation. Links below, followed by a repost of the Q&A. The full Powerpoint slide deck is inside the post attachments.
---
List of web resources mentioned: 
What do the professionals think?

AvCan Weather Blog

500 mbar chart

Automated products:

SF or MF

GFS Heavy

mountain-forecast.com is the same site

NOAA Precip Probabilities

Ensure you set it to snow mode. This product is not available in the summer for obvious reasons

Confidence between models:

Grains on the ground

Automated snow pillow heights in BC

Full snow profiles (from a limited subset of locations):

Filterable list of AvCAN MINs

remember to apply filter "Report Type: Snowpack"

Satellite derived soundings:

Pick a forecast run 0Z, 6Z, 12Z or 18Z; drop a map pin, then click get sounding.
---
Session Q&A (reposted for visibility)
I have had trouble finding weather station data to check snow depth in different areas

This is genuinely difficult. There are only a few public resources I know of:

Automated snow pillow height systems

Snowpilot

AvCan MINs (with filters applied)

I tend to triangulate my weather forecasting through a variety of sites, with an emphasis on Mountain Forecast.com but I'm curious whether there is a better way to do this 

Yes! You can regionally target optimal precip using the NOAA WPC Snow map

You can then laser focus your selections using spotwx HRRR or HRDPS.

Mountain-forecast and snow-forecast are literally the same site.

MF and SF heavily rely on the GFS, and as such have somewhat low resolution. This causes the average elevation in a given "forecast block" to fall significantly. MF and SF try to offset this by cranking the lapse rate adjustments. Ever notice how the accumulation at elevation always seems weird?

What *is* the deal with Manning forecasts

There are few commercial operators in the area. BC MoTI and Manning Park Resort only.

The former does their own forecasts and keeps their cards close to their chest.

The latter has an RWDI AlpineFX subscription and doesn't need to share data.

AvCan does have a site keyed on Alison Pass, but due to orographic effect, differences of only a few km east of the site produce dramatically different results.

I strongly encourage people recreating in Manning Park to use the NWAC "East Slopes North" product instead of the AvCan South Coast Inland product.

How do you know which side of a mountain ie. at Whistler or Blackcomb to ride?

Polar > Solar – Skiing is better in cool and shaded areas. Some mapping software can overlay solar radiation on maps creating literal bullseyes on pow stashes.

Think about how the Horstman Headwall or Spanky's rocks and Sun Bowl sucks.

Very high resolution maps of solar exposure in the WB resort exist. Email me.

Lee > Windward (within reason, and assuming that you're not walking into a wind slab trap)

Maximize orographic effect (callaghan vs whistler)

Coincidentally, places with lower specific aspect avalanche hazard are often more fun to ride.

wondering all the forecast are actually using the same data source just different interpretations

Yes and no, but mostly yes. There are many different models, Global, North American, European, and all sorts in between. You may have seen acronyms such as GFS, NAM, GDPS, RDPS, or LAM. These all refer to different datasets produced by different governments in different ways.
In specific examples:

snow-forecast.com heavily rely on the GFS.
RWDI's forecast on whistlerblackcomb.com heavily relies on the NAM.
Everyone has their special blend depending on what their scientists like and what subscriptions they have paid for.

The HRDPS is my favourite for laser focused short range.

The LAM is my favourite for pure 5-day weather forecasting.

Once a forecast is more than about 5 days out, many models start mixing in "climate" data as opposed to purely "weather."

Do do I use the internet to detect inversions? (asked during the presentation, not in the slide deck)

Weathernerds HRRR derived soundings.

Look for an abnormal lapse rate on the skew-t chart. The red line.

Figure 2 on page 5 of this PDF explains better than I can in this post 
Generic thumbnail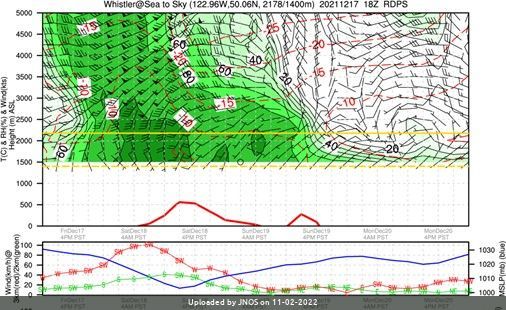 21.12.2021 (718 Days Ago)

Backcountry Skiing

| | | | |
| --- | --- | --- | --- |
| Trip Report Title | | Weather Workflow 20211221 | |

BCMC Forecaster Funnel Slide Deck
667 Days Ago
There are no comments yet