Ascended Wedge Mountain along the Northeast arete in good conditions on Monday July 3. The forecast for Sunday was clear skies. However when we arrived at the trail head, there was a cloud cover above Wedgemount Lake. Overcast on the approach trail made it very pleasant and cool to hike in. Along the trail we bumped into the ACC group and BCMC members and gave us some beta on the route. It took us ~3 hours to the hut and we took a well deserved break. After, we opted to camp further up the glacier along a rock ledge. We passed the lake and contoured around the glacier to get a better idea of the route and camped on a broad rock ledge. The area was very accommodating for setting up tents. We had dinner and took a well deserved nap for an early alpine start. I am not sure at what time I woke up, but we left at 2:30 am. It was still cloudy.We could not see the ridge proper. The lead team was in front and went up the col to join the ridge. After a couple 100 m on the ridge, gendarmes blocked the passage. We turned back and opted to bypass it lower on a steep snow slope. We followed the ridge without any difficulty. The clouds lifted and we had an Alpen glow on the face of Wedge. It was amazing. We climbed the steep snow section of the arete and made it on the summit. We did not linger too long on the summit. It was windy. It was not over yet. We descended back down the col to the glacier proper. It took us 3 hours to camp. I highly recommend doing the entire Northeast Arete. It's definitely worth doing.  
Here is the link for the photos: https://drive.google.com/drive/folders/0Bx-Yw3b7iTwvYkRsUU1NYzFuUmM?usp=sharing
Wedge Northeast Arete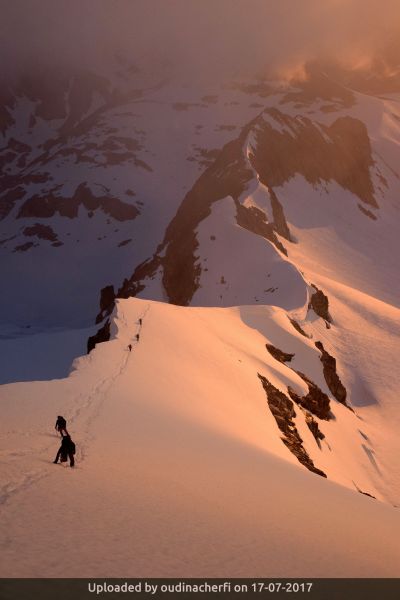 17.07.2017 (1287 Days Ago)

Mountaineering

| | | | |
| --- | --- | --- | --- |
| Trip Report Title | | Wedge Northeast Arete | |
Carolynstein wrote 1066 Days Ago (

neutral

)

0

The light here is amazing.