On holiday Monday, four of us traveled to Yak Peak to climb two of the popular granite routes. While Cormac and Adi climbed Yak Check, Cynthia and I made our way up the route called "Seven One-Move Wonders Of the World" (SOMWOW)... a 5.7+ 15-pitch slab route. Overall is was a fun route and a great day of climbing :-)
Yak Peak - "Seven One Move Wonders of the World" route

Bottom of pitch 1.

Looking back on pitch 1.

Lower pitch... mid-5th

Lower pitch... mid-5th

Middle pitches were all
about 55m long & runout.

Pitch 9. Water at the bolt station
forced us to build one.

Pitch 10

Top of pitch 11

Looking up at pitch 12

Near top of pitch 12.

Looking up at pitch 13. This was the
crux section and was more polished
and than the other sections (5.7+).

Summit photo of Cynthia.
Most pitches were more runout than I'd expected. Cynthia is a good climber but preferred to second all the runnout pitches... so I lead almost every pitch. Total climbing time was about 8hrs and we were a tired by the time we reached the summit. For comparison, if you've lead "Over the Rainbow" on the Squamish Apron then SOMWOW will seem relatively easy... if it's dry.

Check the Mountain Project website for an excellent description of this route: http://www.mountainproject.com/v/somwow---seven-one-move-wonders-of-the-world/106863038.
SOMWOW route on Yak Peak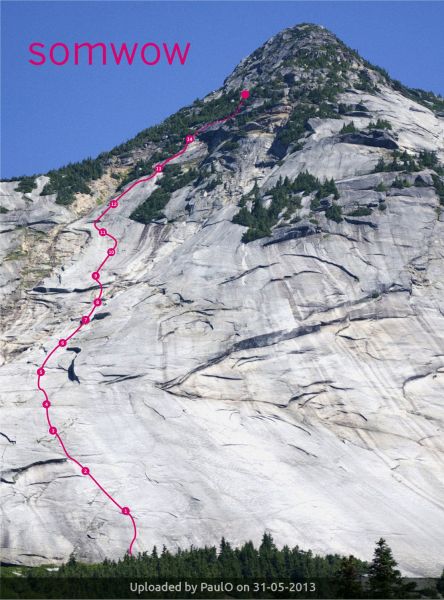 30.05.2013 (3655 Days Ago)

Rock Climbing

yak peak
somwow
| | | | |
| --- | --- | --- | --- |
| Trip Report Title | | Yak Peak Via SOMWOW (Aug 1, 2011) | |
rsimzer wrote 3265 Days Ago (

neutral

)

0

Hi Paul,

Just saw this trip report now. I may have to bug you for some Beta-- i've driven by this many times wanting to climb it.


PaulK wrote 3535 Days Ago (

positive

)

1

Good report but I was wanting larger pictures.

mikehamata wrote 3625 Days Ago (

positive

)

1

Awesome!