Name: Early Season Powder at Mt Baker - Heliotrope Ridge
Starts: Sat Dec 01, 2012
Meetup:
Return: Sun Dec 02, 2012
Registration opens: Fri Nov 23, 2012
Event category: Backcountry Skiing
Difficulty grade: C3 [?]
For members only: No
Screening used: No
Max participants: 7
Organizer: Seth Baker

Profile info:
You must login in order to sign up online for one of the BCMC Trips. If you don't have a BCMC membership account then please obtain one.  If you'd prefer to learn more before joining then please join as a 30-day Guest member.   Some trips are BCMC members only.
Time to get the legs in shape with some early season shredding at Mt Baker/Heliotrope Ridge.
Early drive Saturday morning, skin to treeline and drop camping gear (~5,000ft). Yo-yo Heliotrope Ridge North/West all afternoon until our legs give out. Sun sets early, so we'll probably set up a avie beacon plot to keep ourselves entertained for the evening. Camp overnight at treeline.
Sunday get up at first light for freshy lines on Coleman Glacier and Heliotrope. Tear down camp and return to car Sunday for 4pm. Back in Vancouver around 7pm.
Max group size 8 skiers in two vehicles. One more car with snow tires may be needed.
Required skills/certifications:
AST-1
Glacier travel/crevasse rescue
Winter camping experience preferred
Required Equipment:
skis, poles, skins, boots
shovel, beacon, probe
harness
crevasse rescue rack (two locking biners, two identical non-locking biners, 3 five-metre prussik cords or 2 prussiks and a long sling/webbing)
camping and sleeping gear (stove, fuel, tents to be arranged with the group)
winter clothing
headlamp!!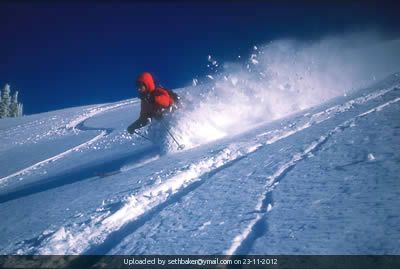 Other trips or events organized by this BCMC member

Brandywine from Callaghan

Laps at Needle Peak in the Coquihalla on Friday

Rainbow Mountain via Nineteen Mile Creek and Ski the North Glacier