Name: Introduction to Ice Climbing course
Starts: Sat Jan 26, 2013
Meetup: St. David's Church, 6:30 am
Return: Sun Jan 27, 2013
Registration opens: Fri Jan 11, 2013
Event category: Instructional Program
Difficulty grade: B5 [?]
For members only: Yes
Screening used: No
Max participants: 5
Organizer: Jeremy Thom

Profile info:
Please describe your level of climbing experience and any ice climbing experience.
You must login in order to sign up online for one of the BCMC Trips. If you don't have a BCMC membership account then please obtain one.  If you'd prefer to learn more before joining then please join as a 30-day Guest member.   Some trips are BCMC members only.
A 2 day course on basic ice climbing safety and technique.  There is a cost of $50 for this course, payable to the Club. We will most likely be based in Lillooet (depending on conditions) so hotel, meals, and transportation will be extra .  No previous ice climbing experience required, but you must know how to belay competently.  You don't need ice tools but do need a helmet, harness, belay device, suitable boots, and crampons with front points and, preferably, secondary points.  Any questions about clothing, gear, or the course in general, just message me.
I have room for all 5 of us in my truck.
"Jeremy is an avid climber with many years of experience ice climbing, and one who pays attention to the most minute details. His systems are based on recognized, modern, known systems that he's been using again and again on the simplest single-pitch climbs to some challenging multi-pitch routes on the Coast or in the Rockies. His patience and sense of humor make him an ideal volunteer to teach a technical course. Come and have fun learning how to ice climb!!!"
Francis St. Pierre, Current BCMC President
Intro Ice Climbing Instruction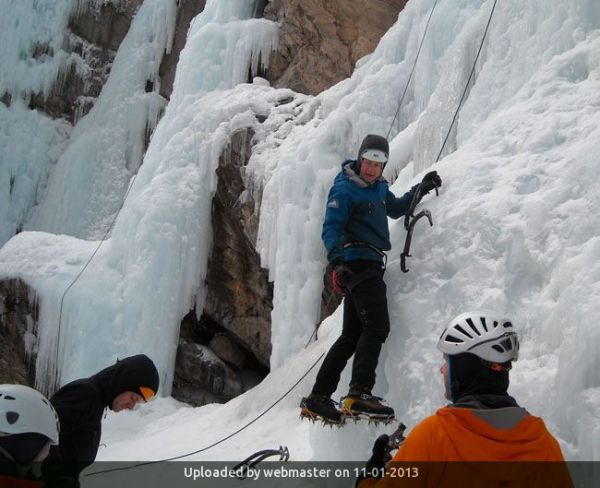 Other trips or events organized by this BCMC member

Two-day course on basic ice climbing safety and technique

Two-day course on basic ice climbing safety and technique

Two-day course on basic ice climbing safety and technique