Name: Essential Rockclimbing *FULL*
Starts: Sat May 25, 2013
Meetup: TBD
Return: Sun May 26, 2013
Registration opens: Tue Mar 26, 2013
Event category: Instructional Program
Difficulty grade: B5 [?]
For members only: Yes
Screening used: Yes
Max participants: 12
Organizer: Kit Griffin

Profile info:
Have you attended the BCMC Outdoor Top-roping Program or do you have equivalent experience? Please specify.
You must login in order to sign up online for one of the BCMC Trips. If you don't have a BCMC membership account then please obtain one.  If you'd prefer to learn more before joining then please join as a 30-day Guest member.   Some trips are BCMC members only.
Essential Rockclimbing consists of one mid-week evening lecture/practice at John Hendry (Trout Lake) Park and two weekend days in the Squamish climbing area.  At the end of the course, you should be able to set up and use a simple top-rope, rappel, set basic anchors, belay and follow a lead climber.
The course is being organized again this year by two veteran BCMC members, Kit Griffin and Paul Miller.  One or two students from a previous Essential Rock Climbing course may be invited to help. Paul Olynek and Waldemar Jonsson have offered to assist the instructors.
There is a participant fee of $100 for this course. Payment can be made either by cheque (in advance, made out to the B.C. Mountaineering Club) or online through the PayPal™ button that will be made available to participants.  Besides the organizers, a maximum of 8 course-participants will be *confirmed* to attend and may not be chosen based solely on the order they registered.  Please note: if you plan to pay by cheque then contact Kit Griffin to let him know ASAP.  In all cases, full payment must be received by the BCMC before the course begins.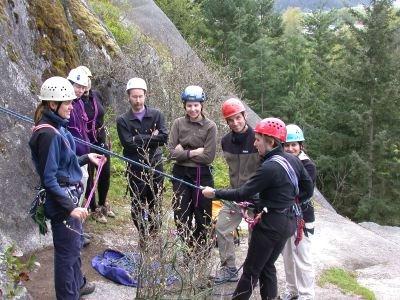 Course prerequisite:
Successful completion of the Basic Outdoor Top-roping course or equivalent, i.e. it is essential that you are able to:
• tie-in to a climbing harness & belay without prompting,
• understand basic rope management, how to coil a rope and the climber's knots,
• figure of eight, clove-hitch, münter-hitch, fisherman's knots,
• able to explain "SERENE or ERNEST Anchors" and ABCD's of checking the belayer,
• understand climber's communication used outside a gym, e.g. ready to climb, on-belay, off-belay, climbing, ready to lower, etc.
Participates will be expected to bring:
• climber's harness, rock shoes & helmet (climber's preferred, cycling will suffice),
• 4 locking carabiners, 1 large pear/Münter-biner, & a belay device (no figure 8s),
• 2 slings of 7mm "static cord" -- one of 1.5 metres & one of 5 metres in length.
Program mentors and the BCMC will provide other needed equipment.
Note about weather:
This course is weather-dependent and may need be rescheduled to a weekend in June.  Please allow some flexibility in your personal weekend schedule for early June.
Note about payment:
After a trip organizer places you on the Waiting List, you may send a cheque or pay online through PayPal™.  After your payment has been received, you will be placed on the Confirmed List... but only if you have the prerequisites or have been *confirmed* for the Basic Outdoor Top-Roping course. Initially only the first 8 to register will be placed on the Waiting List.  As of April 15th, if there are *less* than 8 confirmed (paid) course participants then those on the Request List will be moved to the Waiting List and thereby given the opportunity become a confirmed (paid) participant.
Some photos for this course are posted here: https://bcmc.ca/m/photos/view/Waldemar-sharing-his-wisdom-Essentials-day-1
Top down belay anchor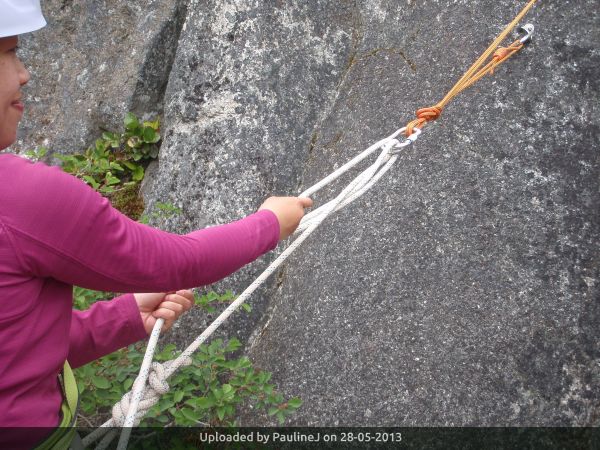 Other trips or events organized by this BCMC member

Intro course to help members learn the basics for rock climbing, no experience needed