Name: North Face of Mount James Turner - TD ice, 5.7
Starts: Fri Jun 28, 2013
Meetup: June 28th at St. David's
Return: Mon Jul 01, 2013
Registration opens: Sun Jun 23, 2013
Event category: Mountaineering
Difficulty grade: D5 [?]
For members only: Yes
Screening used: Yes
Max participants: 4
Organizer: Don Montrichard

Profile info:
If you expect to received a response from me, you MUST provide answers to the following questions in your message:
1. Have you climbed any alpine routes rated "D" (or higher) in the past 12 months, and (if so) which ones and when?
2. IPA or Lager?
You must login in order to sign up online for one of the BCMC Trips. If you don't have a BCMC membership account then please obtain one.  If you'd prefer to learn more before joining then please join as a 30-day Guest member.   Some trips are BCMC members only.
The (tentative) plan:
June 28 - drive past Whistler, hike trail to Wedgemount Lake and camp for night
June 29 - cross Wedge-Weart col and traverse Weart Glacier to a camp on Needles Glacier
June 30  - climb route
July 1 - reverse entire approach
This will involve a long approach and likely difficult climbing conditions, with the potential for significant objective dangers. We will likely choose to use skis for the approach.
The trip will need good weather and the route itself will need good snow conditions (we will have to observe the conditions from the base of the route). The climbing group will need to be small in order to be relatively fast. If the POP for the trip dates is 30% or greater on the day before the start date then the trip will be rescheduled (if possible).
Please consider NOT seeking to join this trip unless you have conducted your own research into the climb, and compared that with your own experience and skill. At a minimum, you will have the fitness, equipment, skills and experience to perform all of the following:
(a) wilderness camping in the snow;
(b) belayed climbing;
(c) rappelling:
(d) lead climbing up to WI3 and 5.7;
(e) glacier travel and crevasse rescue; and,
(f) 1000+ metres of ascent per day.
If we have not climbed together before, and you want to receive a response from the Trip Organizer, you must answer the question for participants (see right-hand side of Trip Page).
All participants must bring their personal climbing gear (harness, belay device, locking biner, mountaineering boots, helmet, crampons, ice axe and/or ice tools, glacier travel and crevasse rescue gear).
Logistics are self-organized. Please use the Planning Forum attached to this trip page to organize rides to the meeting point and to let others know whether you can drive to trailhead or not. Please also indicate if you can provide a tent (and how many can insider) and a stove to share with other trip participants.
Please update your BCMC Account Profile with your emergency contact information. To do that you have to login on the website, click the "My account" button at top right, then click on "edit profile information", then select the "private information" tab and enter your emergency contact information -- this info will stay in your profile and is made available to a trip organizer automatically -- it saves time at the meeting point.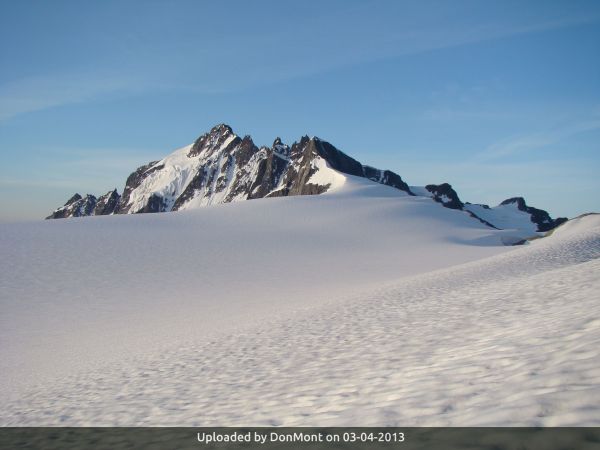 Other trips or events organized by this BCMC member

A high traverse of the highlights of the Tantalus Range

Mountaineering in the Tantalus Range

One of the easier routes up the north side