Name: Wilderness First Aid
Starts: Thu Jun 20, 2013
Meetup: 223 Mountain Hwy Suite 106, N.Van
Return: Sun Jun 23, 2013
Registration opens: Thu May 09, 2013
Event category: Instructional Program
Difficulty grade: B0 [?]
For members only: No
Screening used: Yes
Max participants: 9
Organizer: Peter Almerling

Profile info:
You must login in order to sign up online for one of the BCMC Trips. If you don't have a BCMC membership account then please obtain one.  If you'd prefer to learn more before joining then please join as a 30-day Guest member.   Some trips are BCMC members only.
Please note, this training program is being offered jointly with the ACC - Vancouver.  The course organizer, Peter Almerling, can only allow a maximum of 24 people to attend the course and will be distributing those between the two clubs based on when and where people register online and have paid. The amount of participants allotted for this event may increase or decrease without notice.
An outline for the course setup is as follows:
Thursday June 20th - 5.30pm to 10pm at 223 Mountain HWY, Suite 106, North Van. - theory class and CPR practice;
Saturday June 22nd & Sunday the 23rd - 8am to 5pm both weekend days at Lighthouse Park (West Van);
This specialized dual certification course is designed for people who work or play outdoors; it is taught using videos, work and text books, and supervised outdoor practical sessions; the course is designed for those who enjoy the outdoors, learning emergency preparedness, and making the right decisions to ensure their own safety and that of others;
CERTIFICATION RECEIVED: St. John Ambulance Standard First Aid for Wilderness certificate, valid for 3 years; and a CPR-B certificate; &
Pre-reading is required and materials can be picked up (location to be determined).
The course goes rain or shine so please dress appropriately and bring your lunch for both weekend days.
Registration is not complete until course payment has been made.  The $200 course fee must be received by the BCMC shortly after organizer requests you to pay.  Please note: a St John Ambulance Cancellation fees may apply in case of a cancellation by a participant.  
Those who register online will be placed on the Waiting List until their payment has been received either by cheque or PayPal.  After payment had been received, the course participant will be placed on the Confirmed List and a confirmation email will be sent.  It should be noted that the organizer plans to add the first 10 Confirmed (i.e. paid) BCMC participants to the combined ACC - BCMC Wilderness First Aid course list... so it's important that you pay the course fee ASAP.
Please contact the course organizer, Peter Almerling, if you have any questions.  If this course is oversubscribed then someone from the BCMC Volunteer Team will look into adding another one. Send the organizer an email if you're very interested in taking the course but later in the year.
Paul tied up Saturday on spine board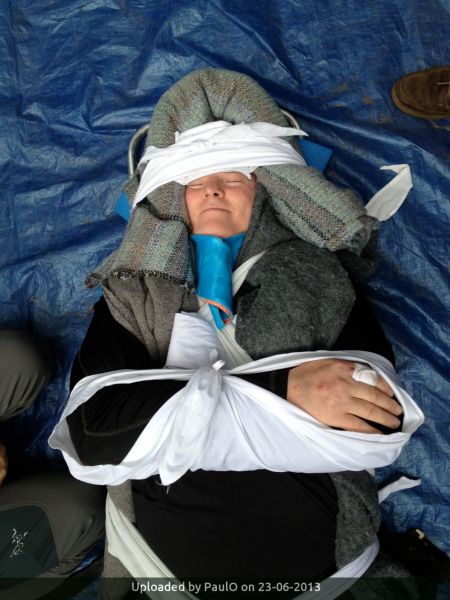 Other trips or events organized by this BCMC member

Take advantage of discounted climbing as inclement weather forecasted for Wednesday

Take advantage of discounted climbing at a new gym