Name: Squamish Rock Climbing (Victoria Day Holiday)
Starts: Mon May 20, 2013
Meetup: 9am, church lot, Hwy 1 & Taylor Way
Return: Mon May 20, 2013
Registration opens: Sun May 12, 2013
Event category: Rock Climbing
Difficulty grade: A5 [?]
For members only: No
Screening used: No
Max participants: 12
Organizer: Paul Olynek

Profile info:
You must login in order to sign up online for one of the BCMC Trips. If you don't have a BCMC membership account then please obtain one.  If you'd prefer to learn more before joining then please join as a 30-day Guest member.   Some trips are BCMC members only.
Please sign up through BCMC website for confirmation of this trip.
Top roping and/or lead climbing in Squamish. Most often we go to Smoke Bluffs, but depending on group size and experience we sometimes go to other local crags instead. We can also pair up climbers for Multi Pitching; if you are interested, let me know. 
All participants must bring their personal climbing gear (harness, belay device, locking biner, climbing shoes, helmet). Also highly recommended is a prussic for rappelling, daisy chain, lunch, water, and snacks.
Ropes & anchor material for this event are provided by participants and not by the club. If you have a full strength climbing rope and anchor material, please do bring it. Also bring your lead rack, slings and QDs if you plan on leading.
While the more experienced climbers are usually happy to share their knowledge, this is not a climbing course. Every participant must be able to belay and is expected to have some top roping experience (indoors or outdoors).
If no interest is expressed by Saturday evening, the trip will be cancelled.
Meet at 9.00 am at the church at Hwy 1 and Taylor Way West Vancouver. Return to the church around 6 pm.
Cancellation due to weather: -Check the weather on Friday evening (Environment Canada - weatheroffice.gc.ca). If the forecast of probability of precipitation at Squamish is 40% or more, the trip is cancelled.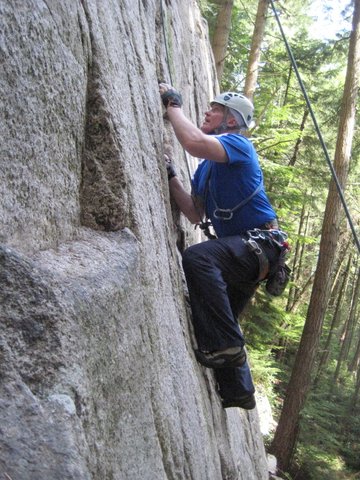 Other trips or events organized by this BCMC member

BCMC Policy and Best Practices Committee

A day of moderate [5.8-5.10b] single-pitch crack and slab climbing in the Squamish area.

A day of moderate [5.9-5.10b] single-pitch crack and slab climbing in the Squamish area.