Name: Early Ice Climbing Camp/Rockies
Starts: Fri Dec 06, 2013
Meetup:
Return: Sat Dec 14, 2013
Registration opens: Mon Nov 04, 2013
Event category: Ice Climbing
Difficulty grade: WI3,4-5? [?]
For members only: No
Screening used: Yes
Max participants: 5
Organizer: Werner Grzimek

Profile info:
You must login in order to sign up online for one of the BCMC Trips. If you don't have a BCMC membership account then please obtain one.  If you'd prefer to learn more before joining then please join as a 30-day Guest member.   Some trips are BCMC members only.
Come for a looong weekend or for a week-long ice climbing camp into the Rockies.
-We usually stay for around $20-25 per night/person in a motel in Golden, at Rampart Creek Hostel on Glacier Parkway - and at a nice economy condo on the outskirts of Canmore.

-I lead WI 3. We climb usually WI3 and some 4 ( some 5?) - Better leaders are welcome!

- We drive around 2000+ km during this week - count on $200-280 for transportation money.

- Minimum requirement: Must have followed WI3 -suitable for moderate(?) to better ice climbers.

-You will find more detailed info on the Google Doc Sheet - link below

-If you want to be accepted you must do two things:

1. Sign up here at the trip list - AND-

2. Fill in your info at the Google Doc Sheet -link below:

https://docs.google.com/spreadsheet/ccc?key=0Ar69tpEGLiIEdE5xU0FBYkpIUS1XYWxJSTU1WGV2RWc&usp=sharing

Please reduce my work load and update your BCMC Account Profile with your emergency contact information. To do that you have to login on the website,
- click the "My account" button at top right,
- then click on "edit profile information",
- then select the "private information" tab and enter your emergency contact info
-- this info will stay in your profile and is made available to all trip organizers automatically -- it saves time and work at the meeting point.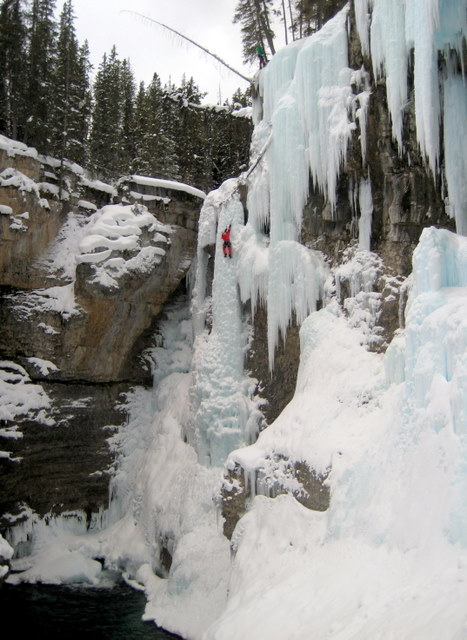 Paul climbing at Johnston Canyon -WI4 near Banff
Other trips or events organized by this BCMC member

Moderate Ice Climbing around Lillooet WI3,4 - for regular weekday (ice) climbers

2 Days Moderate Ice Climbing, Rambles & Marble Canyon, MON-TUE or TUE-WED.

2-3 days Ice Climbing around Lillooet. Mon-Tue-(Wed?) Dec.12,13, (14?) WI3,4