Name: Welch Peak
Starts: Sat Oct 26, 2013
Meetup: Chevron @ 3030 Boundary Rd
Return: Sat Oct 26, 2013
Registration opens: Thu Oct 24, 2013
Event category: Mountaineering
Difficulty grade: C3 [?]
For members only: Yes
Screening used: Yes
Max participants: 5
Organizer: Francis St Pierre

Profile info:
What peak(s) have you done in the past requiring exposed scrambling or roped climbing?
What trip(s) have you done recently requiring good fitness?
You must login in order to sign up online for one of the BCMC Trips. If you don't have a BCMC membership account then please obtain one.  If you'd prefer to learn more before joining then please join as a 30-day Guest member.   Some trips are BCMC members only.
Note: the number of participants is limited to 5 people due to the need for a HC 4x4 vehicle to get up the logging roads with deep cross-ditches (I can only take 5 people in my truck). Let me know if you have a suitable vehicle and I can increase the number of participants if more than 4 (plus me) sign-up.
=================================================================
Welch Peak via complete South Ridge... Another classic peak near Vancouver. See Matt Gunn's book for detailed information.
This trip involves some steep and exposed scrambling in addition to being fairly long and strenuous as a day trip. Participants must bring a headlamp and a helmet as there is a fair amount of loose rock. No ropes will be used. The scrambling is likely best done in approach shoes with sticky rubber. 
We will meet at 05:50  ** leaving at 06:00 sharp ** at the Chevron on Boundary Road (3030 Boundary Rd, just south of Grandview) and will use my 4x4 truck (or anyone else's, if available) in order to gain better access up the logging roads for the approach. Transportation costs will be based on the BCMC Guidelines (https://bcmc.ca/club_driver_guidelines.php) -- rough estimate is $30 to $50 pp depending on number of participants.
Please update your BCMC Account Profile with your emergency contact information. To do that you have to login on the website, click the "My account" button at top right, then click on "edit profile information", then select the "private information" tab and enter your emergency contact information -- this info will stay in your profile and is made available to a trip organizer automatically -- it saves time at the meeting point.
Welct trip Oct 26 2013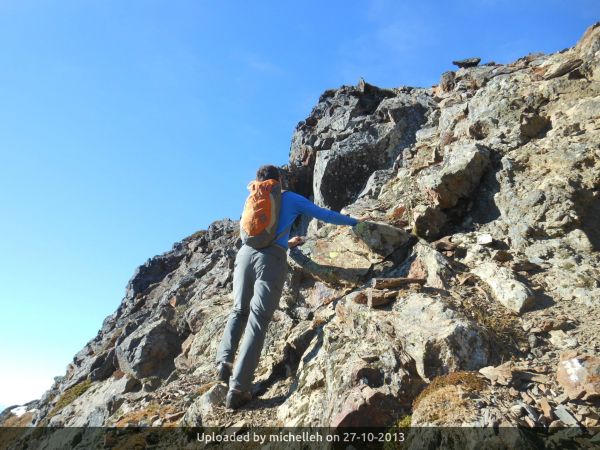 Other trips or events organized by this BCMC member

A day of ice to get our game going in early season (still...)

Explore West Ridge of Llama as a potential BCMC hut site

A day cragging in Squamish