Name: Alpen Mountain
Starts: Sat Dec 07, 2013
Meetup: St. David's @ 7:40
Return: Sat Dec 07, 2013
Registration opens: Mon Nov 11, 2013
Event category: Backcountry Skiing
Difficulty grade: B2 [?]
For members only: Yes
Screening used: No
Max participants: 10
Organizer: Geoffrey Zenger

Profile info:
Do you have a 4x4 that you can drive to the trailhead?
You must login in order to sign up online for one of the BCMC Trips. If you don't have a BCMC membership account then please obtain one.  If you'd prefer to learn more before joining then please join as a 30-day Guest member.   Some trips are BCMC members only.
Although not described in Baldwin's book, Alpen Mountain is a very enjoyable ski ascent almost directly above Squamish.  Trip length depends on how high we can drive, but expect around 1200m of elevation gain, with the first 800m of that on logging road (good for an early season warm up).  The route is mellow until directly below the summit where, depending on conditions, it may be easier to ascend the last 15 minutes on foot.
There is a snowmobile cabin at around 1430m, but on previous ascents of the mountain I did not encounter any snowmobile activity.
Number of participants will be limited by the number of available 4x4s.  When signing up, please let me know whether or not you have a 4x4 vehicle that you are willing to drive to the trailhead.
All participants must be a competent skiier or boarder
Participants must have taken AST-1 (or equivalent)
Participants must have a Probe, Beacon, and Shovel and know how to use them
The trip will only run if conditions are safe.  Knowing the right route it is possible to get well into the alpine before nearing any avalanche slopes, and but if the slopes in the alpine are unstable, a summit attempt will not be possible.
Participants will be confirmed as 4x4 spots become available.  If you have bailed last minute on previous trips, do not expect a reply.  Only sign up when you can commit to participating.
December 2011 - Summit Photo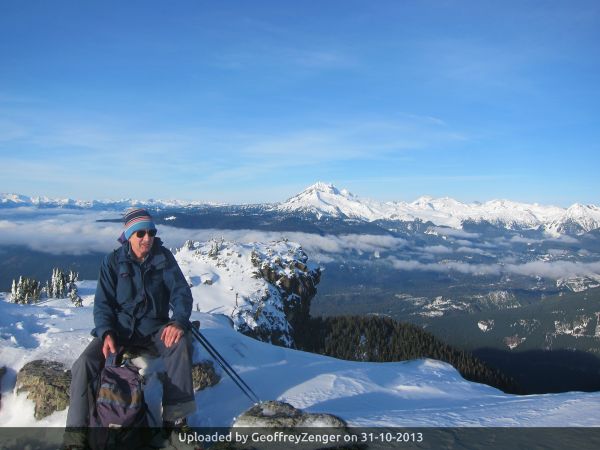 Other trips or events organized by this BCMC member

Quick Ski Up and Down Mt. Sproatt

Scrambling above Furry Creek (Mountain Lake Area)

Chilliwack Valley Scrambling