Name: Panorama Ridge... 30km of hiking & snowshoeing
Starts: Sat Dec 07, 2013
Meetup: 6am at St. David's Church parking lot
Return: Sat Dec 07, 2013
Registration opens: Mon Nov 18, 2013
Event category: Snowshoeing
Difficulty grade: C3 [?]
For members only: Yes
Screening used: Yes
Max participants: 3
Organizer: Paul Olynek

Profile info:
Have you done an +8hr snowshoe trip before?
Can you drive to the Garibaldi Lake parking lot?
Do you need a ride to the N.Van. meetup place?
You must login in order to sign up online for one of the BCMC Trips. If you don't have a BCMC membership account then please obtain one.  If you'd prefer to learn more before joining then please join as a 30-day Guest member.   Some trips are BCMC members only.
UPDATE: I have changed the meeting time to one hour earlier...  6 AM.   We will appreciate the extra hour of daylight when we're descending down the ridge and returning across the meadows.
The trail from the parking lot to Panorama Ridge and back is 30km with a 1525m elevation gain.  It will require excellent fitness and good snowshoe skills.  With the short December days we'll definitely be descending after sunset with headlamps.  Everyone will need to carry the 10 essentials including an emergency bivy and warm clothing in case we're forced to stop for an extended period of time.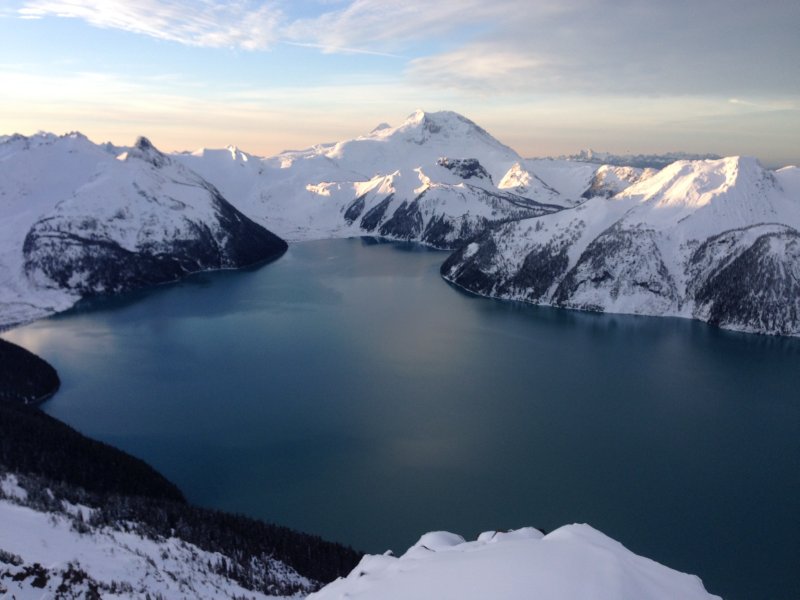 The above sunrise photo was taken by "ubishops", a fast hiker/snowshoer (I've hiked with him a few times), and posted on the Club Tread forum in early October.  Here's a link to the associated trip report: http://www.clubtread.com/sforum/topic.asp?TOPIC_ID=58233
Shared transportation cost to & from Garibaldi Lake Road
(182 km round trip, driver not included in "Passengers")
Estimated: $ 48
 
Two Passengers:
$ 24 each ($ 48/2)
 
Three Passengers:
$ 16 each ($ 48/3)
 
Four Passengers:
$ 12 each ($ 48/4)
Here's a link to the club's policy for driver compensation:  https://bcmc.ca/club_driver_guidelines.php 
Please update your BCMC Account Profile with your emergency contact information. To do that you have to login on the website, click the "My account" button at top right, then click on "edit profile information", then select the "private information" tab, enter your password and enter your emergency contact information -- this info will stay in your profile and is made available to a trip organizer automatically -- it saves time at the meeting point.
Other trips or events organized by this BCMC member

BCMC Policy and Best Practices Committee

A day of moderate [5.8-5.10b] single-pitch crack and slab climbing in the Squamish area.

A day of moderate [5.9-5.10b] single-pitch crack and slab climbing in the Squamish area.