Name: Lizzie Creek Cabin skiing
Starts: Sat Feb 08, 2014
Meetup: at 7 am, Petro-Canada in Pemberton
Return: Mon Feb 10, 2014
Registration opens: Mon Dec 16, 2013
Event category: Backcountry Skiing
Difficulty grade: B3/C3 [?]
For members only: Yes
Screening used: Yes
Max participants: 6
Organizer: Andrei Smertin

Profile info:
(1) Have you successfully completed the AST-1 (or higher) course?
(2) Do you have/will you obtain a beacon, probe and shovel?
(3) Have you practiced using your beacon before?
(4) Briefly describe your ski mountaineering experience, skills and equipment.
(5) Do you have a vehicle? Willing to carpool? How many passengers (plus gear) can you transport?
You must login in order to sign up online for one of the BCMC Trips. If you don't have a BCMC membership account then please obtain one.  If you'd prefer to learn more before joining then please join as a 30-day Guest member.   Some trips are BCMC members only.
See pages 154-156 of the latest edition of the Baldwin guide and internet sites
http://www.trailpeak.com/trail-Lizzie-Lake-Cabin-near-Pemberton-BC-3457

http://www.mapmyhike.com/ca/pemberton-british-columbia/stein-valley-lizzie-lake-cabin-amp-amp-l-route-43270480
Access via logging roads.
Sleeping in the Lizzie Creek Cabin, sleeps 6-8 - no reservations, no fee for use.
Possible ascents of Anemone Pk, Long Pk, Tynemouth Mnt etc.
ALL participants MUST have the following equipment.
Beacon, Probe & Shovel

AST-1 or higher training

AT/telemark ski or splitboard setup (including skins)

Headlamp + spare batteries

Stove+gas to prepare your meals (or share with other participants)

Appropriate clothing for being out in the elements all day

Enough food and water to remain on the move for most of the day 
Trip organizer will carry the following items: first aid kit, GPS/Compass/Map.
Driving from Hwy 99 on Forest Service Rd 17 km in winter conditions can easily take an hour. Chains for car are advised.
Strenuous approach (C3) is time and energy consuming: elevation gain 1360 m in 13-15 kilometers of trail breaking with the potential for some objective dangers.  We should try to start approach not later than at 7am to get to cabin before dark.
Trip will only "go" with a decent weather forecast (POP of 50% or less), and a forecast of "Moderate" or less on the CAA Avalanche Danger Scale for "Below treeline", on the day before the start date: see http://www.avalanche.ca/cac/bulletins/latest/south-coast. If the trip does not "go", it may be rescheduled to a later date (if possible).
Please consider NOT seeking to join this trip unless you have conducted your own research into the route, and compared that with your own experience, fitness level and skills.
If you want to receive a response from the Trip Organizer, you must answer the questions for participants (see left-hand side of Trip Page).
Logistics are self-organized. Please use the Planning Forum attached to this trip page to organize rides to the meeting point and to let others know whether you can drive to trail head or not.
Please update your BCMC Account Profile with your emergency contact information. To do that you have to login on the website, click the "My account" button at top right, then click on "edit profile information", then select the "private information" tab and enter your emergency contact information -- this info will stay in your profile and is made available to a trip organizer automatically -- it saves time at the meeting point.
Lizzie Creek Cabin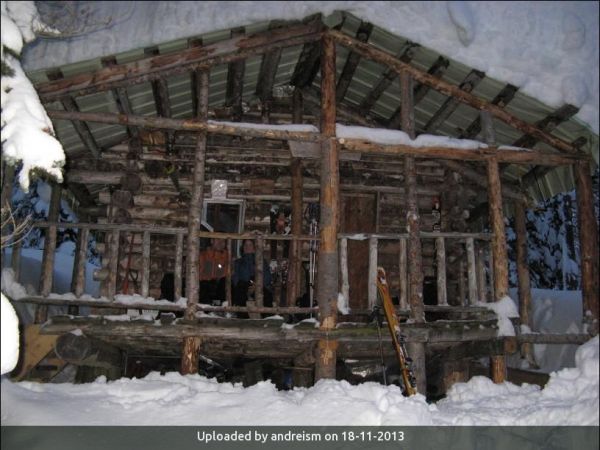 Other trips or events organized by this BCMC member

Pebble Peak and Sugus Mountain are targets, Gunsight Peek and Hemiouns Mt are alternatives

Sessel Mountain 2710M is a main target of the trip.