Name: Adams/Hood/St. Helens Threefer
Starts: Tue Jun 17, 2014
Meetup: TBD
Return: Sun Jun 22, 2014
Registration opens: Sat Mar 01, 2014
Event category: Mountaineering
Difficulty grade: C/D 2 [?]
For members only: No
Screening used: Yes
Max participants: 9
Organizer: Marlaina Rhymer

Profile info:
Which summit(s) are you in for?
Do you have a vehicle and can you take others?
If Mount Hood is on your list, please give an outline of your mountaineering experience.
You must login in order to sign up online for one of the BCMC Trips. If you don't have a BCMC membership account then please obtain one.  If you'd prefer to learn more before joining then please join as a 30-day Guest member.   Some trips are BCMC members only.
This trip will look something like this:
June 17: drive from the lower mainland to Mount Adams, buy permits from ranger station, set up car camp, prepare for the next day, early bedtime. If we arrive early, we may climb to Lunch Counter for camp instead.
June 18: Summit day of Mount Adams (3743m / 12,280ft) via the classic South Spur. Last year we did it in 12.5 hours car-to-car with a group of 4, so expect a similar timeline this year. Camping at Lunch Counter knocks off a few hours. Terrain is non-technical, but crampons and ice axe are strongly recommended. 
June 19: Pack up camp and drive to Mount Hood. Pick up climbing permits at trail head. Possibility to climb part way up and camp, but not likely. Will focus on rest and relaxation.
June 20: Summit day of Mount Hood (3429m / 11,250ft) via the classic South Side. This is a more steep and technical ascent as the peak is glaciated. Ice axe, crampons, helmet mandatory, as well as training/experience with roped travel and self-arrest. Shouldn't be a long summit day, but I may opt to stick around a while (see explanation below). Option to pack up and move to the next mountain tonight, or stay another night and drive in the morning.
June 21: Mount St. Helens Summit Day (2550m / 8366 ft). A non-technical, short ascent. Ice axe and crampons recommended to carry. Depending on timing, may drive home after the summit or stay to camp.  I will purchase 6 climbing permits ahead of time. If you sign up for this summit, please commit and do not flake out last minute as someone else may want your permit. Alternatively, you can procure your own permit on the St. Helens website. 
June 22: Drive home (if not already there!). Will probably plan a stop at REI on the way ;-)
More details to follow as the trip gets closer, but start thinking about whether you're interested in one, two, or all three summits!
*explanation of Mount Hood: so the real inspiration for this trip is the rumour that Ed Viesturs (my mountaineering hero) is leading a charity climb on Mount Hood that day. My plan is to get a super early start, then camp out on the summit in hopes of a little meet-and-greet as he and his team arrive. It's dorky, and even a little creepy, but that's the truth!
The ascent, Mount Adams 2013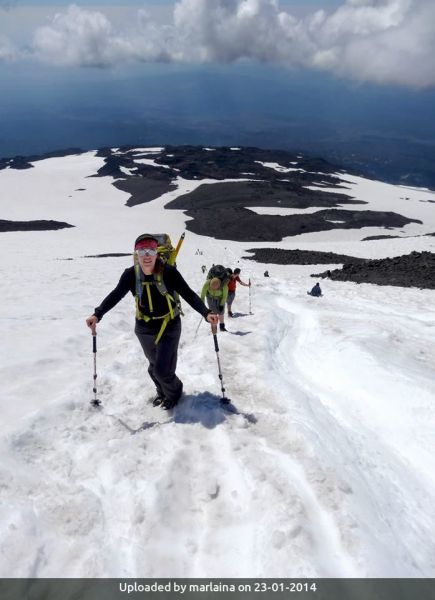 Other trips or events organized by this BCMC member

AST2 advanced avalanche skills course, Jan 26-27 and Feb 2-3

AST2 advanced avalanche skills course, Jan 26-27 and Feb 2-3

Learn critical avalanche safety basics to get you out in the backcountry safely. AST-1 is required for many club trips.