Name: Rock Climbing Essentials
Starts: Sat Jun 14, 2014
Meetup: TBD
Return: Sun Jun 15, 2014
Registration opens: Mon Jun 16, 2014
Event category: Instructional Program
Difficulty grade: B5 [?]
For members only: Yes
Screening used: Yes
Max participants: 14
Organizer: Paul Miller

Profile info:
Have you attended the BCMC Outdoor Top-roping Program or do you have equivalent experience? Please specify.
You must login in order to sign up online for one of the BCMC Trips. If you don't have a BCMC membership account then please obtain one.  If you'd prefer to learn more before joining then please join as a 30-day Guest member.   Some trips are BCMC members only.
The Rock Climbing Essentials course consists of a Wednesday evening (June 11, 7pm) lecture/practice at the south end of John Hendry (Trout Lake) Park followed by two weekend days in the Squamish climbing area (June 14-15).  At the end of the course, you should be able to set up and use a simple top-rope, rappel, set basic anchors, belay and follow a lead climber.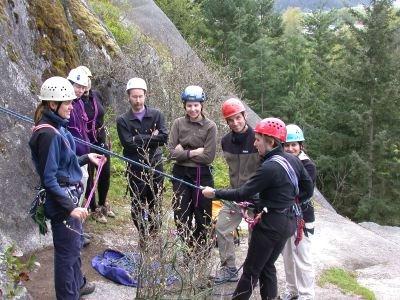 Course Prerequisites:
Successful completion of the Basic Outdoor Top-roping course or equivalent (note that preference may be given to participants from the Basic course), i.e. it is essential that you are able to:
• tie-in to a climbing harness & belay without prompting,
• understand basic rope management, how to coil a rope and the climber's knots,
• figure of eight, clove-hitch, münter-hitch, fisherman's knots,
• able to explain "SERENE or ERNEST Anchors" and ABCD's of checking the belayer,
• understand climber's communication used outside a gym, e.g. ready to climb, on-belay, off-belay, climbing, ready to lower, etc.
Required Equipment:
• climber's harness, rock shoes & helmet (climber's strongly preferred, but a good cycling helmet will suffice),
• 4 locking carabiners, 1 large pear/Münter-biner, & a belay device (no figure 8s),
• 2 slings of 7mm "static cord" -- one of 1.5 metres & one of 5 metres in length.
The course organizers or the BCMC will provide other required equipment. On the course's full-day outings, you will need to bring lunch, water, suitable clothing and sunscreen.
Instructors and Assistants:
The course volunteer instructors will be two veteran BCMC members: Kit Griffin and Paul Miller; both of whom have taught this course many times in the past.  In addition, one or two BCMC members who have completed an Essential Rock Climbing course may be invited to assist (if interested in volunteering, please contact either Kit or Paul).  
Participant Payments:
There is a participant fee of $100 for this course.  In addition to the instructors and their assistants, a maximum of 8 course-participants will be *confirmed* to attend.  Upon registering for the course, members will be placed on the Request List until their response to screening questions have been reviewed by Paul Miller (this may take a day or two).  After the review, a course organizer will decide whether to move the member's name to the Waiting List, at which point an email notification will be sent.  Only while on the Waiting List should payment be made... either send a cheque by postal mail or use the "Pay Now" button to pay online.  Please note that a place on the Waiting List does not guarantee participation in the course.  After payment has been received, and in the order it was received, the participant's name will be moved to the Confirmed List and an email notification sent out.  Once the Confirmed List is full, no more payments will be accepted.  If you plan to pay by personal cheque (made out to B.C. Mountaineering Club), please contact the BCMC Programs Chairperson to let them know of your intention.
Waiver/Medical Forms:
The course waiver and medical form (see file downloads) need to be printed out, filled in by the participant and handed to Paul Miller *before* the course begins.  Failure to submit the forms will be considered as a decision by the participant to cancel their enrollment in the course.
Schedule Changes and Cancellations: 
This course is weather-dependent and may be rescheduled in case of suspected poor weather.  If the course is rescheduled to another weekend that does not fit into your personal schedule then a full refund will be issued.  IMPORTANT: cancellation fees may apply in case of a cancellation by a participant; please review the BCMC Course Refund Policy for detailed information.
Other trips or events organized by this BCMC member

Intro course to help club members learn the basics for rock climbing, no experience needed