Name: Cloudburst
Starts: Sun Jun 08, 2014
Meetup: 9:30am Lonsdale Quay, North Vancouver
Return: Sun Jun 08, 2014
Registration opens: Fri May 30, 2014
Event category: Scrambling
Difficulty grade: B2 [?]
For members only: Yes
Screening used: Yes
Max participants: 5
Organizer: Brittany Zenger

Profile info:
Do you have a 4x4 HC vehicle? How many passengers can you take?
You must login in order to sign up online for one of the BCMC Trips. If you don't have a BCMC membership account then please obtain one.  If you'd prefer to learn more before joining then please join as a 30-day Guest member.   Some trips are BCMC members only.
Note: Meeting time has been moved to a more sensible 9:30am. No other 4x4 drivers have come forward, so trip is limited to 5.
Short, early season easy scramble to Cloudburst.
Beginners welcome.
We require 4x4 high clearance vehicles to get to the trail head. The organizer can provide transportation to 3-4 participants. Total number of participants may be limited by availability of suitable vehicles. If you sign up please indicate if you have a 4x4 HC vehicle and are willing to drive.
Sturdy boots and poles/ice ax recommended, mostly snow walking.
Cloudburst from Tricouni Meadows (Photo: R. Ballantyne)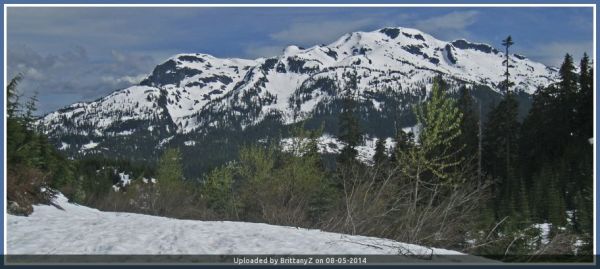 Other trips or events organized by this BCMC member

Continuing his decades long tradition, Karl Ricker will lead an October trip, this time to the summit of Mt Cheam.

Moderate hike/scramble up a moderate peak in the Chilliwack Valley

A little more winter in June - moderate hike on snow up to an alpine summit, 4x4 logging road access