Name: Wedge Mountain - Northeast Arete (AD-, ice)
Starts: Sat May 31, 2014
Meetup: St. David's Church at 7:00 a.m. on Saturday
Return: Sun Jun 01, 2014
Registration opens: Mon May 12, 2014
Event category: Mountaineering
Difficulty grade: C4-5 [?]
For members only: Yes
Screening used: Yes
Max participants: 6
Organizer: Don Montrichard

Profile info:
(1) What is the last mountaineering route that you have climbed or attempted?
(2) Can you build a haul system for crevasse rescue? Can you ascend the climbing rope following a fall into a crevasse?
(3) Can you drive to the trailhead? How many passengers (with their gear) can you take?
(4) Can you supply a tent? stove? rope? pickets?
(5) Bonus Question: bourbon, rye or single malt?
You must login in order to sign up online for one of the BCMC Trips. If you don't have a BCMC membership account then please obtain one.  If you'd prefer to learn more before joining then please join as a 30-day Guest member.   Some trips are BCMC members only.
This trip is suitable for mountaineers with some previous introductory-level experience/training.
See Alpine Select route #46: "A beautiful classic of mountaineering in British Columbia. Mostly easy-angled, but very exposed, especially in the upper section where the arete peters out into a steeping open face shortly before the summit ridge".
Tentative plan is to drive to the Wedgemount Lake trailhead on Saturday morning and hike up the BC Parks trail to the lake. Possibility of staying in the small hut or continuing on up the Wedge Glacier to a bivy site near the Wedge-Weart col. Early start on Sunday morning, climbing 350 m along the magnificently exposed NE Arete to the summit ridge of Wedge Mountain. For the descent, we may reverse the route (if conditions are favourable) or come down via the West Ridge to the Wedge-Parkhurst col (less desirable).
Trip organizer will supply some of the group gear, including map, GPS, satellite messenger and first aid kit. Shared tents, stoves and ropes will be organized once the trip participants are finalized.
Each trip participant needs to provide his/her own: helmet, harness, steel crampons, ice axe (2nd ice tool optional), belay/rappel device, crevasse rescue gear (pulley, carabiners, sewn slings/webbing/cord), warm & weatherproof clothing, enough food and hydration to stay on the move for 8-12 hours at a time.
We may also need snowshoes, depending on the conditions that weekend.
Please Note: Camping fees are now applicable for all camping in Garibaldi Park. Please use the online fee payment system for all areas of Garibaldi Park. 
https://secure.camis.com/DiscoverCamping/Backcountry/Garibaldi?Map
NOTES
please consider NOT seeking to join this trip unless you have conducted your own research into the route, and compared that with your own experience, 

fitness

 level and skill
if minimum safety levels are not met (because of weather, conditions, etc.) the trip will be canceled, last minute cancellations do occur.
if you want to receive a response you must clearly answer  ALL "Trip Planning Questions".
if you haven't received response, check your email in Spam folder (some eager service providers mark club's messages as such).

logistics are self-organized - please use the Planning Forum attached to this trip page to organize rides to the meeting point.

Please update your BCMC Account Profile with your emergency contact information.

 

To do that you have to login on the website, click the "My account" button at top right, then click on "edit profile information", then select the "private information" tab and enter your emergency contact information -- this info will stay in your profile and is made available to a trip organizer automatically -- it saves time at the meeting point.

if you have previously "bailed" less than a day before the start of, or been a "no show" for, one of the trip organizer's previous trips, you need not apply to join this one - you will not get a response.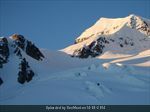 Other trips or events organized by this BCMC member

A high traverse of the highlights of the Tantalus Range

Mountaineering in the Tantalus Range

One of the easier routes up the north side