Name: Intro to Paragliding: Fly over the Mountains
Starts: Sat Jul 05, 2014
Meetup:
Return: Sun Jul 06, 2014
Registration opens: Mon Jun 09, 2014
Event category: Instructional Program
Difficulty grade: N/A [?]
For members only: Yes
Screening used: Yes
Max participants: 10
Organizer: Ursula Paleczek

Profile info:
You must login in order to sign up online for one of the BCMC Trips. If you don't have a BCMC membership account then please obtain one.  If you'd prefer to learn more before joining then please join as a 30-day Guest member.   Some trips are BCMC members only.
The courses are offered to BCMC through iParaglide school. You have two options: 1) Slope Soaring course (half-day course); 2) Discovery Solo course (two-day course). NOTE: After completing Slope Soaring, you can upgrade to the Discovery Solo course.
Course Fees: we are currently negotiating a club discount with the school. Please check here for updates.
Option 1: Slope Soaring (http://www.iparaglide.com/slope-soaring-paragliding/), Saturday, half-day (Sat July 5).
Option 2: Discovery Solo (http://www.iparaglide.com/discovery-solo-paragliding/), an evening theory class (Wed July 2) and full weekend of practice, dawn to dusk (Sat & Sun July 5-6).
The Slope Soaring is a half-day course designed to teach the skills of launching, flying and landing a paraglider over a small hill. The Solo Discovery course is a full-weekend curriculum designed to teach the skills required to fly as the pilot in command during a paragliding high mountain flight. The theory session includes an introduction to basic principles of paragliding aerodynamics.
The school will supply all the required equipment: paraglider, paragliding harness, paragliding reserve parachute, helmet and radio. You need to wear sturdy footwear with good ankle support. 
You will be emailed by the trip organizer to work out registration details.
Slope soaring (photo copyright www.iparaglide.com)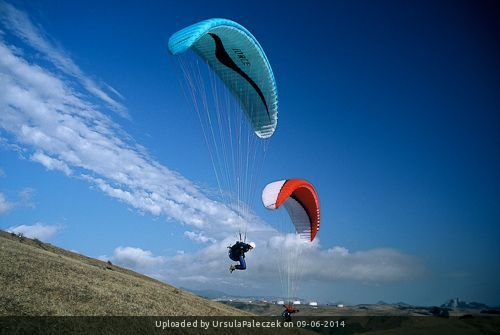 Other trips or events organized by this BCMC member

Indoor climbing at the Vancouver Cliffhanger gym

Indoor climbing at the Vancouver Cliffhanger gym

Indoor climbing at the Vancouver Cliffhanger gym