Name: Hozomeen Mountain, North Tower
Starts: Sat Jul 19, 2014
Meetup: Email sent with meet up instructions
Return: Sat Jul 19, 2014
Registration opens: Thu Jul 10, 2014
Event category: Mountaineering
Difficulty grade: D4 [?]
For members only: Yes
Screening used: Yes
Max participants: 6
Organizer: Paul Kubik

Profile info:
Please outline your most recent mountaineering or backcountry ski trip were you pushed your physical limits, ideally where the trip was longer than 8 hours.
What were the circumstances that stressed your capabilities towards the maximum?
Do you want that kind of experience ever again?
What recent rock climbing route or routes have you led or soloed in a mountain setting with exposure?
Are you comfortable with exposure?
You must login in order to sign up online for one of the BCMC Trips. If you don't have a BCMC membership account then please obtain one.  If you'd prefer to learn more before joining then please join as a 30-day Guest member.   Some trips are BCMC members only.
This trip will be a one-day trip covering approximately 38 kilometers round trip and 2900 meters total elevation gain. Despite that, the pace will not be fast and furious. It will be steady and sustainable with breaks. Most travel will be on trail (Centennial Trail or Skyline Divide and then Hozomeen Ridge Trail) to Monument 74. Thence south to Hozomeen northwest ridge. The climbing will require an ice axe, helmet, sturdy mountain boots and crampons. The rock type is such that there is little possibility of placing protection so climbers must be able to climb Class 3 with shorter sections of Class 4, including exposure without belay. Climbers must be able to downclimb the route without rappel. Climbers must be able to self arrest on steep snow. Note: that the route leans back a bit from what photos from a distance show.
In addition to the technical equipment listed above, bring headlamp and spare batteries. Travel insurance is also required as a portion of the trip is in the U.S.A.
We will car camp at Hozomeen Camp the previous evening. Bring a quick breakfast.
Hozomeen north face, middle and upper snow fields, NW ridge on right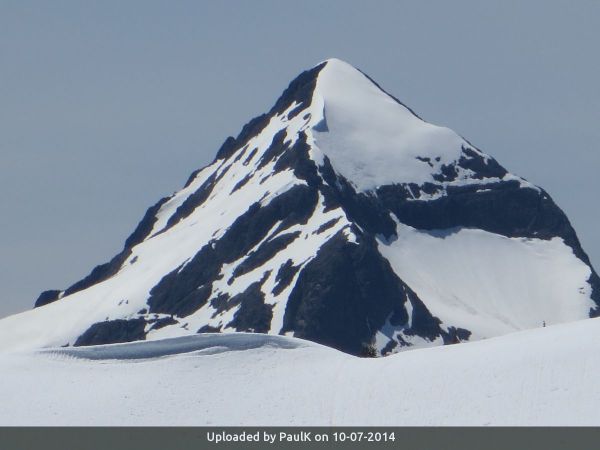 Other trips or events organized by this BCMC member

Ski ascent from near the end of Mamquam FSR

Ski touring off Lightning Lake chain in Manning Park

Ski touring off the Coq. Approach from Britton Creek R.A.