Name: Hope Mountain Hike & Work
Starts: Sat Oct 04, 2014
Meetup: Columbia Skytrain, 7:45am
Return: Sat Oct 04, 2014
Registration opens: Fri Sep 26, 2014
Event category: Trail Clearing
Difficulty grade: B2 [?]
For members only: No
Screening used: Yes
Max participants: 10
Organizer: Geoffrey Zenger

Profile info:
Do you have any trail tools?
Do you have a 4x4?
You must login in order to sign up online for one of the BCMC Trips. If you don't have a BCMC membership account then please obtain one.  If you'd prefer to learn more before joining then please join as a 30-day Guest member.   Some trips are BCMC members only.
Do your part and give back to the community!
Hope Mountain is a fun hike above Hope with beautiful views.  Although the upper part of the trail is in good shape, the first 1 or 1.5km is through a clearcut and the last time I was up there (2 Octobers ago) was quite overgrown.  I'd like to head up there and fix up the first part of the trail.  We will likely have time to hike the mountain too (it's around 4.5 hour round trip including lunch) if everything goes well.
Note: 4x4 required so we're limited to number of 4x4 spots
Note: I'll provide as many tools as I can, but if you have more, please bring them.
Note: If the Hope Mountain trail is in good shape (i.e. if someone fixed it up in the past year), we can climb the mountain anyways, and fix up the start of the Wells Peak trail, which heads up from the same parking area (the first 500m or so of the Wells Peak trail is in poor shape).
Hope Mountain Summit View to Mt. Outram (Thanksgiving 2012)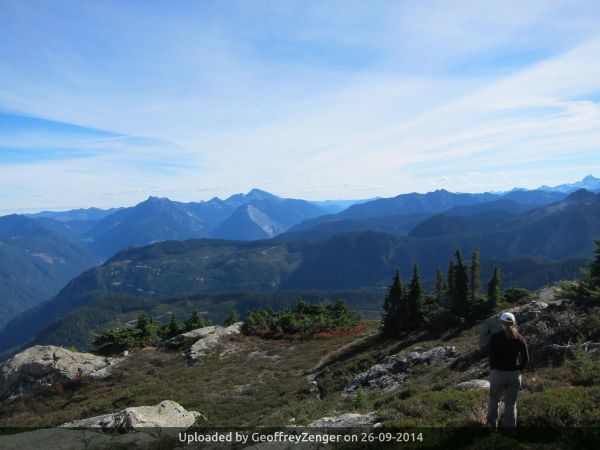 Other trips or events organized by this BCMC member

Quick Ski Up and Down Mt. Sproatt

Scrambling above Furry Creek (Mountain Lake Area)

Chilliwack Valley Scrambling