Name: Introduction to Ice Climbing
Starts: Fri Jan 16, 2015
Meetup: St. David's Church (W.Van.), 6:30 pm Friday
Return: Sun Jan 18, 2015
Registration opens: Thu Dec 18, 2014
Event category: Instructional Program
Difficulty grade: B5 [?]
For members only: Yes
Screening used: Yes
Max participants: 10
Organizer: Paul Olynek

Profile info:
Please describe your level of climbing experience and any ice climbing experience.
You must login in order to sign up online for one of the BCMC Trips. If you don't have a BCMC membership account then please obtain one.  If you'd prefer to learn more before joining then please join as a 30-day Guest member.   Some trips are BCMC members only.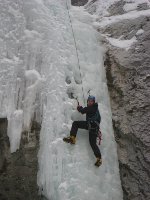 Course overview: this is a 2-day course covering basic ice climbing safety and techniques.  It will be lead by Joseph Wong, a BCMC member with several years of experience leading waterfall ice. 
Expected costs: the course fee is $75 CAD.  In addition, you can expect extra expenses to include individual meals, drinks and snacks... plus shared hotel and transportation costs.
Focus group: while the course is primarily intended for club members with little or no ice climbing experience, it can also be taken by members who are transitioning from a novice to intermediate level.
Prerequisites: those taking the course are expected to have:
1) a minimum one year of indoor or outdoor climbing, i.e. >20 trips to the gym or crag,
2) acquired the climbing skills to successfully top-rope 5.10a indoors or 5.9 outdoors,
3) successfully passed a climber top-rope belay course or have extensive experience.
4) be in reasonable physical condition, enough to climb several near vertical 25m routes.
Transportation: we will to be based in Lillooet B.C., which is a 4 hour drive from Vancouver.  Our plan is to leave Vancouver Friday evening at 6pm, stopping in Squamish for a lite supper and to buy a few groceries, then continue on to Lillooet arriving about 11pm to check into our motel rooms.  We'll be getting up early each morning to pack our gear into our vehicles, have a good breakfast in town, and then drive to whichever local climbing area is best suited for our group.  Note that fuel will be shared cost collected by the drivers.
Accommodation: we'll be renting two rooms at the Mile-0 Motel in Lillooet.  Each room has two queen-size beds and the fee is only $75 + tax per room per night.  So for example, with three people per room the cost will be $25 + taxes per person per night.  Note: the motel is a shared cost collected by the course organizers.  More info about the motel can be found online at: mileomotel.com

Clothing & gear: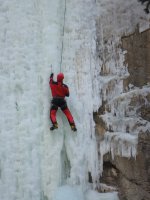 1) If you do not own ice tools, you can either explore the option to rent/borrow a pair or you can opt to share the two pairs owned by the club that we expect to bring along.
2) You must have a proper climbing helmet, harness, belay device, suitable boots and crampons designed for waterfall ice climbing. Note: please fit the crampons to the boots *before* attending the course.
3) For clothing, bring a combination of...
 a) water resistant outer shell for climbing in,
 b) very warm jacket for standing around and belaying in,
 c) one or more inner layers that dry quickly,
 d) at least two pairs of gloves, a water resistant pair for climbing and a warm pair for the rest of the time,
 e) warm hat and, if very cold, a face mask or neck warmer.
Should you have any questions or concerns, please don't hesitate to contact the organizers as soon as possible.
Registration process:
1) after you've register online your name will automatically be added to the "Request List" while the organizer reviews your registration information,
2) after the organizer approves your request, your name will be placed in the "Waiting List", which will give you access to the "Pay Now" (PayPal) button to pay online,
3) after payment has been confirmed by PayPal, your name will be moved to the "Confirmed List" and a confirmation email will be sent to you. 
Notes about the "Confirmed List":
 1) ordering will be based on when course fee payments were received.
 2) group total, including organizer, is limited by "Max participants:".
Payment options:
1) online PayPal / Credit Card payment through the BCMC website is preferred,
2) the alternate method is send a cheque payable to the B.C. Mountaineering Club and mailed to PO Box 2674, Vancouver, BC V6B 3W8.  Allow time for delivery since payment will not be considered "received" until the cheque has been deposited into the BCMC bank account.  Contact the organizer to request a space on the "Confirmed List" be held for you.
NOTE: cancellation fees may apply if a "Confirmed" participant withdraws from the course and requests a refund.  For more information, please review the BCMC Course Refund Policy.
Other trips or events organized by this BCMC member

BCMC Policy and Best Practices Committee

A day of moderate [5.8-5.10b] single-pitch crack and slab climbing in the Squamish area.

A day of moderate [5.9-5.10b] single-pitch crack and slab climbing in the Squamish area.