Name: Indoor Climbing - Richmond Oval
Starts: Sat Jan 10, 2015
Meetup: 6111 River Road Richmond, 12 PM
Return: Sat Jan 10, 2015
Registration opens: Fri Jan 09, 2015
Event category: Indoor Climbing
Difficulty grade: A5 [?]
For members only: No
Screening used: No
Max participants: 20
Organizer: Paul Olynek

Profile info:
You must login in order to sign up online for one of the BCMC Trips. If you don't have a BCMC membership account then please obtain one.  If you'd prefer to learn more before joining then please join as a 30-day Guest member.   Some trips are BCMC members only.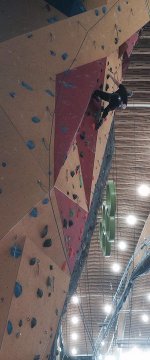 Let's visit the indoor climbing wall at the Richmond Oval and climb some of the 45+ routes set for climbers of all levels and abilities.  Some of the routes are 40ft high and there are two auto-belay devices on shorter routes for solo climbing.
I will be there from 12:00 to 3:00 pm.  If you don't already know me, you ask at the climbing desk for the BCMC group, or contact me beforehand, or just look for a 6ft tall guy wearing black shirt and pants with VERY short hair.
If you have not climbed at the Richmond Oval climbing gym, you will need to pass a belay test (or a lead climbing test if you want to lead or lead belay) -- this is a requirement of the gym.  While it is likely that the more experienced climbers will be happy to share some of their knowledge, please keep in mind that this is not a climbing course. 
Note that BCMC members are eligible to receive a discount on Mondays and Wednesdays from 6pm - 10pm ... but I suggest you ask for the BCMC discount whenever you go, they *may* provide it to you away.  The Richmond Oval is currently underused so BCMC members are being encouraged to go more often.  To learn more about club discounts, visit the BCMC Membership Benefits webpage.
For the Richmond Oval address and other info about their indoor climbing wall, please visit the Richmond Oval Climbing webpage.
Other trips or events organized by this BCMC member

BCMC Policy and Best Practices Committee

A day of moderate [5.8-5.10b] single-pitch crack and slab climbing in the Squamish area.

A day of moderate [5.9-5.10b] single-pitch crack and slab climbing in the Squamish area.