Name: Dalton Dome
Starts: Fri Apr 03, 2015
Meetup: TBA
Return: Sun Apr 05, 2015
Registration opens: Mon Jan 26, 2015
Event category: Backcountry Skiing
Difficulty grade: C3 [?]
For members only: No
Screening used: No
Max participants: 8
Organizer: Craig Speirs

Profile info:
Do you have crevasse rescue training?
You must login in order to sign up online for one of the BCMC Trips. If you don't have a BCMC membership account then please obtain one.  If you'd prefer to learn more before joining then please join as a 30-day Guest member.   Some trips are BCMC members only.
Here is a quick revised plan (as of Tuesday march 31, 2015) ...
Friday
    -Meet at St. Davids Friday morning 8AM.
    -Walk/skin up to Elfin Lakes hut.
   - Have lunch + some yo yo ing + dinner + bed
 
Saturday
   - get up early and head out (we can either go up towards Little Diamond Head or down into Ring Creek).
   - Make a 'valiant' effort to bag Dalton Dome (subject to good avi and crevasse conditions).
   - Return to the cabin + dinner + bed
Sunday
   - Return to the vehicles.
If the weather forecast is bad, I will change the plan or cancel altogether.  I will make the decision tomorrow (Wed.) night. 
It looks like some people may want to tree ski and stay down off the glacier (this may include myself as I have had some injury issues). Let me know if this is the case, so I can plan ropes and gear.
The cost of the Elfin hut is $15 per person per night.  I will send a camping / gear list tomorrow night pending the final decision.
Photo c/o - Serguei Okountsev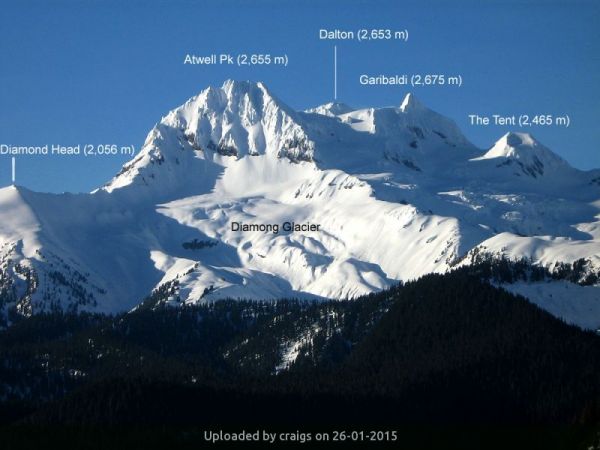 Other trips or events organized by this BCMC member

Coin Peak from Pokosha Creek.

Exodus Peak from the West

Rarely visited peak near the head of Indian Arm