Name: Wilderness First Aid + CPR (April) SPACE STILL AVAILABLE
Starts: Sat Apr 25, 2015
Meetup: 7:45AM 240-400 Brooksbank Avenue, North Vancouver (CWMS)
Return: Sun Apr 26, 2015
Registration opens: Mon Mar 23, 2015
Event category: Instructional Program
Difficulty grade: B0 [?]
For members only: Yes
Screening used: No
Max participants: 12
Organizer: Club Courses (Rob Simzer)

Profile info:
You must login in order to sign up online for one of the BCMC Trips. If you don't have a BCMC membership account then please obtain one.  If you'd prefer to learn more before joining then please join as a 30-day Guest member.   Some trips are BCMC members only.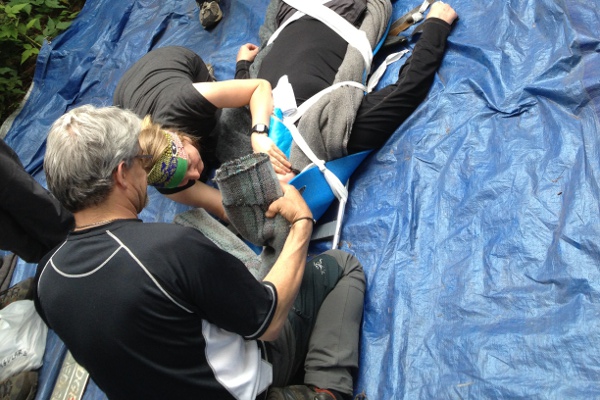 PLEASE NOTE: The course is limited to a maximum of 12 participants. However, please sign-up after the course fills up since we may arrange for an additional instructor. 
Course Fees: BCMC Members: $225 +GST (including the CPR Level C certification, regularly 300+GST) -- see below for BCMC Incentive Program offering partial reimbursement.

Course Dates: Wilderness First Aid: Sat & Sun April 25-26; CPR C and AED Thursday April 30
The Introductory Wilderness First Aid course is a dedicated BCMC course offered through the Canada West Mountain School [CWMS] -- this course is offered to BCMC Members outside of the normal CWMS schedule. The course is taught by instructors who are active outdoor enthusiasts and consists of an evening session for CPR certification plus 2 full weekend days of theory and real-life simulations in an outdoor environment. Course material is included in the course fee. This course is a must for anyone active in the outdoor.
Logistics:
Saturday & Sunday - 8am to 5pm both weekend days at CWMS ( 

240-400 Brooksbank Avenue, North Vancouver

). Please arrive around 07:45 on Saturday morning and bring a fully-packed day pack as if you were going out in the mountains on that day (you will be using your equipment for improvised first aid).
Thursday April 30 6:30-9:30PM, at Canada West Mountain School (

240-400 Brooksbank Avenue, North Vancouver

)

This specialized course is designed for people who work or play outdoors; it is designed for those who enjoy the outdoors, learning emergency preparedness, and making the right decisions to ensure their own safety and that of other.

Prior to the course start date, you will receive an email with a form for you to fill-out and bring to the course on Saturday morning. 
The course goes rain or shine so please dress appropriately and bring your lunch for both weekend days.
On-line Registration process: your name will be placed on the "Waiting List" until payment has been received either by cheque or PayPal/Credit Card (more info below).  After payment, the organizer will move your name to the "Confirmed List" upon which an automatic confirmation email will be sent to you.  The "Confirmed List" order is based on when payment was received and, since most club courses fill up, it's important that you pay the course fee ASAP. 
Payment: PayPal/Credit Card payment is preferred and can be made through the BCMC website (click on the "Pay Now" button on the course description page). Alternatively, cheques should be made payable to British Columbia Mountaineering Club and mailed to PO Box 2674, Vancouver, BC V6B 3W8; Important Note: you MUST make arrangements with the organizer to keep a seat open for you while your cheque is in transit or your seat may be taken by someone else. 
Schedule Changes and Cancellations: if the course is rescheduled to another weekend that does not fit into your personal schedule then a full refund will be issued.  IMPORTANT: cancellation fees may apply in case of a cancellation by a participant; please review the BCMC Course Refund Policy for detailed information. 
Trip Organizer and Volunteer Instructor Incentive Program: if you have volunteered your time as either...  
a) Trip Organizer with 4 or more outdoor trips in the past 12 months, you may apply for a 25% rebate off the course fee ($56.25), or
b) Course Instructor (primary volunteer organizer) in the past 12 months, you may apply for a 50% refund of the course fee ($112.50)
... please email courses@bcmc.ca with your request, along with a list of recent trips and/or course(s) you have been the primary organizer for. 
More Information: you can look-up more info for the standard CWMS course curriculum here:  http://themountainschool.com/info/first-aid-intro.html
Other trips or events organized by this BCMC member

This course for club members wanting to learn more about technical multi-day alpine routes on skis/splitboards

AST-2 Course... second of two weekends. Register via the first weekend (January 23, 24) listing.

AST-2 Advanced Avalanche Skills Course, January 23, 24 and January 30, 31