Name: June 9th Social - Exploring the Waddington Range on Skis
Starts: Tue Jun 09, 2015
Meetup: Anza Club, 8th and Ontario, Vancouver, BC 7:30pm
Return: Tue Jun 09, 2015
Registration opens: Mon May 25, 2015
Event category: Social
Difficulty grade: A1 [?]
For members only: No
Screening used: No
Max participants: -
Organizer: Doug Lonsbrough
Profile info:
You must login in order to sign up online for one of the BCMC Trips. If you don't have a BCMC membership account then please obtain one.  If you'd prefer to learn more before joining then please join as a 30-day Guest member.   Some trips are BCMC members only.
If you're living in BC and have the slightest interest in mountaineering, it does not take long before you hear the name Waddington. Mt. Waddington, once known as Mystery Mountain, is the highest peak in the Coast Mountains of British Columbia.  The mountain occupies quite a significant place in the local mountaineering history. 
Ben Shewan, Alex Ramanciuc, Dean Perez and Alexis Guige decided that Mt. Waddington would be their main objective for this year.  Feeling that the true summit was too technical for them, the team made for the slightly lower northwest summit which can be skied almost all the way to the top. When they finally got a good weather window in April, they flew in to Dais Glacier and climbed Mt. Waddington the next day. Not surprisingly for folks who did the Stein Valley traverse in 28 hours, they spent 14 hours on the ascent for a 21 hour round trip navigating though circuitous crevasses and seracs. The team then spent a week exploring the area and enjoying some very nice corn snow and beautiful scenery. 
It's the last Social before the summer and we invite you to come out and support Ben, Alex, Dean and Alexis and see what's possible in our mountains.
Everyone is welcome [1] ... visitors, members and guests. The meeting will take place at the Vancouver ANZA Club main floor (corner of 8th Ave and Ontario) on Tuesday June 9th 2015. The entrance door opens shortly after 7pm and the meeting begins at 7:30pm.  [1] Note: you must be 19+ years old to attend and may be asked to sign-in at the door to ensure we don't exceed 135 people in the hall.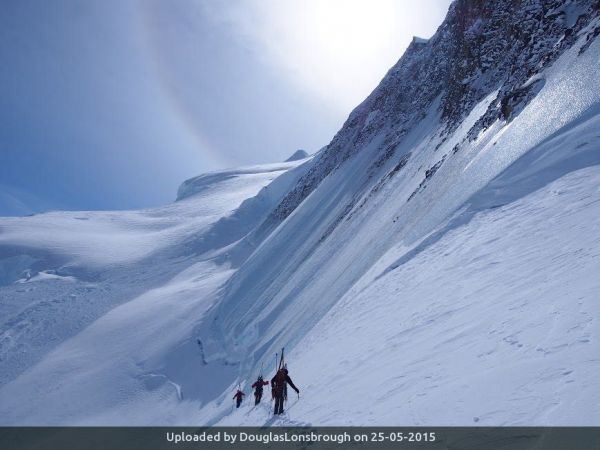 Other trips or events organized by this BCMC member

John Baldwin and Linda Bily will present their new book, Soul of Wilderness (available October 2015).

Leigh and Spring McClurg present highlights of their climbing and skiing in BC and the Rockies.

Mission Accomplished for Ravil Chamgoulov – The '8th Summit' – Gunnbjørn, the Highest Peak in the Arctic