Name: Rescue skills practice
Starts: Thu Sep 17, 2015
Meetup: Meet 11am, Smoke Bluffs parking lot. I'll have a grey Cragalot pack and orange helmet
Return: Thu Sep 17, 2015
Registration opens: Thu Sep 10, 2015
Event category: Practice
Difficulty grade: A5 [?]
For members only: No
Screening used: No
Max participants: 6
Organizer: Eva van Emden

Profile info:
What kind of rescue training do you have?
NOTE: please check the planning forum for carpooling information.
You must login in order to sign up online for one of the BCMC Trips. If you don't have a BCMC membership account then please obtain one.  If you'd prefer to learn more before joining then please join as a 30-day Guest member.   Some trips are BCMC members only.
An informal session -- not a course. My idea is that we compare notes and help each other practice our skills. It's up to participants what they want to do, but some skills we might want to practice are: tying off a belay to get hands-free, escaping the belay, passing a knot on rappel, counterbalance rappelling, prusiking up a rope, and simple hauling.
Requirements: You should be confident at building safe anchors, belaying, and rappelling, and have some kind of rescue training. If you're not sure you have enough experience, shoot me a message.
Equipment to bring: Everyone needs a helmet, harness, belay device, and rope. Besides that, bring whatever rescue gear you normally climb with. This is what I like to use:
1 or 2 cordelettes (5-6 metres long)
2 prusiks (1.5 metres or so, 7 mm cord to go with my 9.8 mm rope)
4 or more locking carabiners (the bigger, the better) and some non-lockers
some slings
Review before the session: prusik knot, munter hitch, clove hitch, mule knot (a.k.a. stopper knot). You might also want to review any haul systems you want to try out. An excellent resource is Climbing Self-Rescue by Tyson and Loomis.
Meetup info: we'll meet at 11 a.m. at the Smoke Bluffs parking lot.  Plan to leave Squamish at 6pm.

Cancellation: If we don't get at least four people, I might reschedule for another date. If you're keen but you can't make this date, let me know when is better. I'll check the weather forecast and decide whether to go or not by 8 p.m. the evening beore. Wet rock is OK for this trip, but if it's raining too much, I'll cancel. 
Rescuing the leader: steps 1 and 2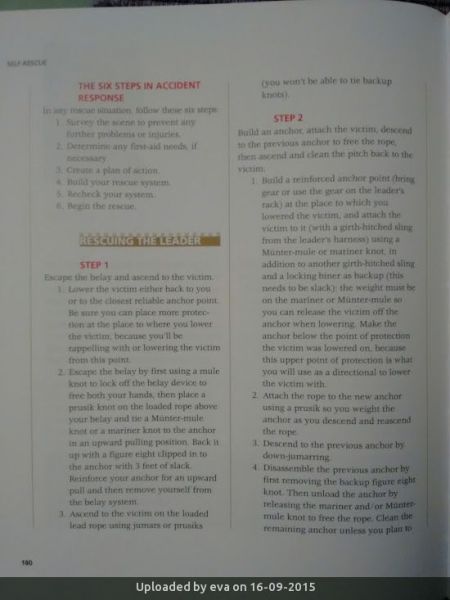 Other trips or events organized by this BCMC member

Indoor climbing at Ground Up Squamish

Indoor climbing at Ground Up Squamish

Indoor climbing at Ground Up Squamish