Name: Saturday Rock Climbing near Bellingham, WA
Starts: Sat Sep 19, 2015
Meetup: Wendy's Parking Lot at 3698 Grandview Hwy, Vancouver (intersection with Boundary Rd)
Return: Sat Sep 19, 2015
Registration opens: Thu Sep 17, 2015
Event category: Rock Climbing
Difficulty grade: A5 [?]
For members only: No
Screening used: Yes
Max participants: 5
Organizer: Martin Schwarze

Profile info:
1. What grade do you top rope / lead outdoors/indoors?
2. Are you interested in leading or just seconding?
3. Will you bring a rope?
4. Will you bring trad gear?
5. Will you bring a car? For how many passengers total (not counting you as the driver)?
You must login in order to sign up online for one of the BCMC Trips. If you don't have a BCMC membership account then please obtain one.  If you'd prefer to learn more before joining then please join as a 30-day Guest member.   Some trips are BCMC members only.
Easy to moderate Saturday rock climbing at Julia's Outcrop (Governor Lister Cliff) in Chuckanut area south of Bellingham (5.7 to 5.10)
General Trip Plan:  Let's escape the Squamish/Vancouver rain and go climbing in a drier and sheltered area south of the border. This trip is for BCMC members with some experience climbing top rope and sport lead. A few routes are mixed trad with some bolts. Each pair of climbers should have someone comfortable leading easy to moderate pitches.
The current plan is to climb at Julia's Outcrop (Governor Lister Cliff). Some routes there are sheltered from the rain and the weather is usually drier and warmer than Squamish.
See here for more info:
http://www.mountainproject.com/v/julias-outcrop-governor-lister-cliff/106851282

Reminders:
Make sure to bring your passport as we are going to cross the border to the US.
You need to have travel insurance for the US. Make sure that it covers rock climbing (maybe BCAA).
Gear Requirements:  All participants must bring their own personal climbing gear... including: harness, belay device, locking biner, climbing shoes, and helmet (no helmet = no climbing).  Also highly recommended are a PAS (personal anchor system) for securing yourself, a prussic for safe rappelling, sunscreen, plenty of water and snacks.
For the approach, sturdy footwear is needed. Hiking poles will be helpful.

Where/When to Meet:  We'll meet early at 8:30 am at the Wendy's parking lot located at Grandview Hwy and Boundary Rd, in Vancouver. It is within walking distance from Rupert Skytrain station (10 min).
Please self-organize car pooling to the Wendy's parking lot via the "Planning Forum" on top-left of this page.

Emergency Contact Info:  Please make sure your Emergency Contact info has been added to your web-account profile.  You can do this by logging into the bcmc.ca website, click on: My Account (top of page)... then click on Edit Emergency Contact (top-left column).  Please re-enter your password to complete the process.  Your emergency contact info is stored privately and only made available to those organizing trips you choose to attend.
Potential Medical Issues:  Any info that should be shared with the organizer(s), please send an email and/or phone ASAP.  For example, if you are very allergic to bee/wasp bites, or you are taking medication that could be vital information to First Aid Responders.  Anything you choose to share with me will remain private.
Poor Weather Cancellation: You can find the weather forecast for where we're going at AccuWeather [http://www.accuweather.com/en/us/bow-wa/98232/weekend-weather/41416_pc]. This trip will only be cancelled if the forecast is for heavy but it will go ahead in case of showers or light rain. If cancelled, we may go indoor climbing at Cliffhanger Climbing Gym in Vancouver instead.

Please make sure to answer all "Questions for Participants"
Working "5 Deadly Venoms" (pic from Mountain Project)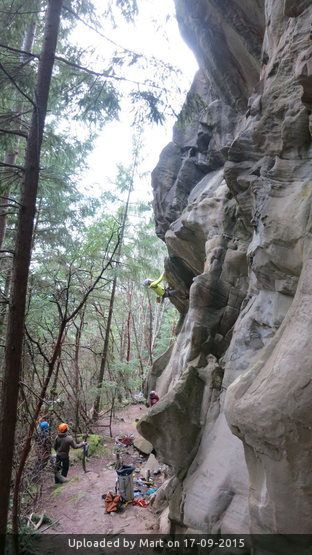 Other trips or events organized by this BCMC member

Join other club members at Climb Base5 for a few hours of indoor climbing (top rope and lead)

Join other club members at Climb Base5 for a few hours of indoor climbing (top rope and lead)

Join other club members at Climb Base5 for a few hours of indoor climbing (top rope and lead)