Name: Beyond Zoa
Starts: Sun Nov 29, 2015
Meetup: 5:40am Location in the Planning Forum
Return: Sun Nov 29, 2015
Registration opens: Wed Nov 25, 2015
Event category: Backcountry Skiing
Difficulty grade: B2-C2/3 [?]
For members only: No
Screening used: Yes
Max participants: 8
Organizer: Cliff Eschner

Profile info:
Do you have a vehicle? Type? Suitable for winter mountain road travel? How many passengers can you take?
What Avi training have you taken? (How practiced are you at transceiver skills, probing, shoveling; how capable are you at rescuing someone?)
Are you prepared for winter backcountry travel? (Winter tested gear and clothing?)
Are you an experienced or fairly new skier; level of ability?
You must login in order to sign up online for one of the BCMC Trips. If you don't have a BCMC membership account then please obtain one.  If you'd prefer to learn more before joining then please join as a 30-day Guest member.   Some trips are BCMC members only.
Coquihalla Ski Tour:  Zoa Peak Returning via Falls Lake ~16km Loop
An intermediate backcountry ski tour. ~1100m elevation gain. Expect route finding beyond Zoa Peak. Distance is moderate and the pace will be friendly with re-grouping, so possibly back after dark.
Expected Conditions:  cold -12 to 0C, clear, sunny, areas of low snow, possible deadfall, probable snow crust, wind affected snow, possible icy surfaces.
We will be pausing at key points during the trip to promote Avalanche Awareness.
Mandatory equipment: Avi gear: Transceiver, Probe and Shovel. Headlamp.
Links & Resources:
Avi Conditions for South Coast Inland   Avalanche.ca
Weather  http://www.yr.no/place/Canada/British_Columbia/Zoa_Peak/
Trip Info  http://inmagicland.com/2015/01/zoa-loop/
Google Map of the Loop: https://www.google.com/maps/d/viewer?mid=zXZKBSKfNibI.k5KxHmYjkwmI&usp=sharing
http://bivouac.com//NameSrch.asp?rq=ProcessForm&SrchTerm=zoa%20peak (paid subsciption needed)
Coquihalla Summit Map by John Baldwin
Organizer will use the Trip Planning forum for additional information as required.
For last minute questions and updates contact me by phone.
Gear required: 10 Essentials, gear for Winter Backcountry travel, Avi gear (Transceiver, Probe, Shovel), and AT or Tele Skis, Skins.
Organizer will bring GPS with tracks; map and compass; Personal Locator Beacon; camera; first aid kit.
Welcome additional gear: GPS, PLB, camera, first aid kit, chocolate.
Recommended carpooling cost: approx. $25 per passenger; please arrange with driver; bring funds.
Access to Falls Lake Parking is Exit 221 via Coquihalla Highway #5. Mountain winter driving conditions.
Emergency Info: please make sure your Emergency Contact info has been added to your web-account profile. You can do this by logging into the bcmc.ca website, click on: My Account (top of page)... then click on Edit Emergency Contact (top-left column). Please re-enter your password to complete the process. Your emergency contact info is stored *privately* and only made available to those organizing trips *you* choose to attend.
Medical Info: any info that should be shared with the organizer(s), please send an email and/or phone ASAP. For example, if you are very allergic to bee/wasp bites, or you are taking medication that could be vital information to First Aid Responders. Anything you choose to share will remain private.
Cancellation: We'll check the weather forecast for where we're going the evening before we meet. If the weather forecast does NOT appear to be adequate for a safe outing then the trip will be cancelled and everyone will be notified by email.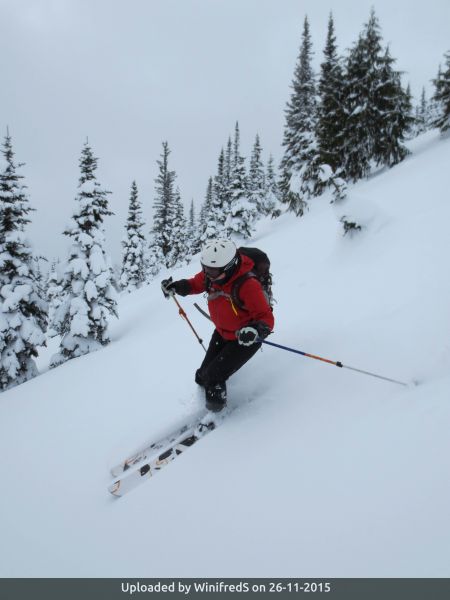 Other trips or events organized by this BCMC member

Ski Tour to Summit Mt Price!

Ski Tour to Summit Mt Rohr!

Ski Tour to Cloudburst Mountain