Name: Companion Rescue Refresher - Whistler
Starts: Fri Dec 04, 2015
Meetup: 6:30am at Taylor Way Church
Return: Fri Dec 04, 2015
Registration opens: Thu Dec 03, 2015
Event category: Instructional Program
Difficulty grade: A-B2 [?]
For members only: No
Screening used: No
Max participants: 20
Organizer: Teresa Yau

Profile info:
Will you be attending the companion rescue refresher? If so, have you signed up for it with MSAA?
Are you looking for a partner to ski at Whistler resort before/after?
Do you have a vehicle? If so, how many people with gear can you fit?
Would you like to carpool together from Squamish?
You must login in order to sign up online for one of the BCMC Trips. If you don't have a BCMC membership account then please obtain one.  If you'd prefer to learn more before joining then please join as a 30-day Guest member.   Some trips are BCMC members only.
This Companion Rescue Refresher is hosted through Mountain Skills Academy & Adventure (MSAA) formerly known as Whistler Alpine Guides Bureau (WAGB). I will be attending it and hoping to find a partner to ski with on the resort before/afterwards. I'm currently based in Squamish now, and would be willing to carpool up/back together from Squamish. As such, I will not be at the Taylor Way Church meeting point at 6:30am, but can arrange the logistics for this if/when participants sign up. Please note, if you are the only participant, you will have to find a means of transportation to Squamish and I can drive from there if need be.

I intend to be up at Whistler for the day, so if you're interested in all or some of the activities, please sign-up and let me know your schedule.
- If you intend to only ski at Whistler/Blackcomb resort, we can meet in the morning and late afternoon for some turns, a full lift pass (http://www.whistlerblackcomb.com/purchase/tickets-and-passes/winter-lift-tickets) will be required and appropriate resort skiing gear.

- If you are only interested in the companion rescue, we can meet at the roundhouse at 10:45am. A backcountry lift pass and appropriate backcountry gear (touring skis, binding, boots, skins, beacon, shovel, probe) will be required. You will have to pay the $10 registration fee with MSAA (https://www.mountainskillsacademy.com/).

Please note, it will be cold and wet up there, so dress appropriately. It might not be a bad idea to bring a change of clothes! If you have further questions, please don't hesitate to contact me.

Please read below for details on the companion rescue refresher: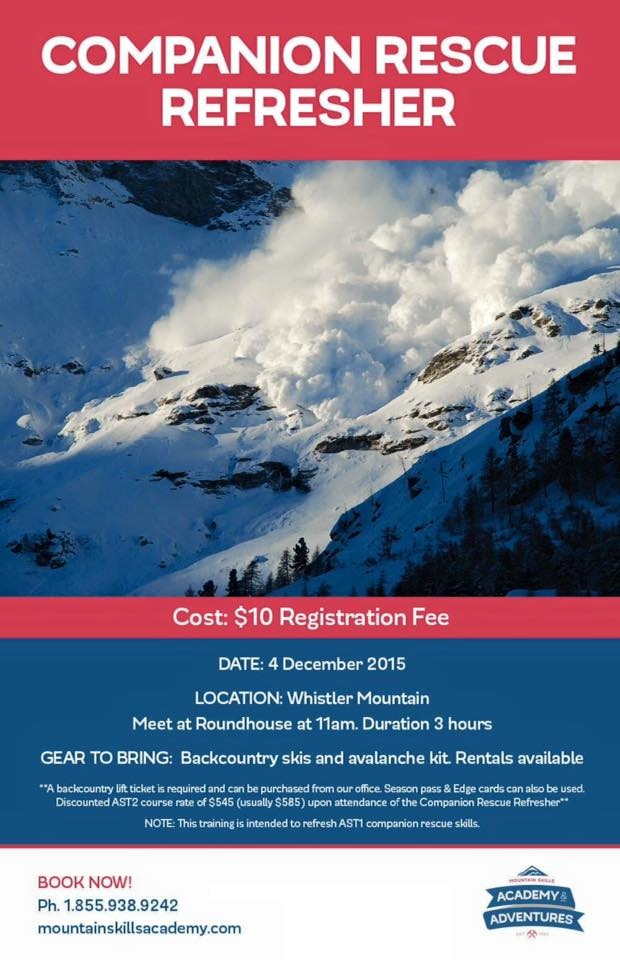 Other trips or events organized by this BCMC member

Companion rescue skills refresher with MSAA.

Indoor lead climbing, top rope, auto belay, and bouldering

Indoor lead climbing, top rope, auto belay, and bouldering