Name: Mt. Rainier via Emmons Glacier
Starts: Thu Jun 30, 2016
Meetup: 2pm at White River Ranger Station
Return: Sun Jul 03, 2016
Registration opens: Sun May 15, 2016
Event category: Mountaineering
Difficulty grade: D3 [?]
For members only: No
Screening used: Yes
Max participants: 8
Organizer: Marlaina Rhymer

Profile info:
Please give me an idea of your mountaineering experience/training
You must login in order to sign up online for one of the BCMC Trips. If you don't have a BCMC membership account then please obtain one.  If you'd prefer to learn more before joining then please join as a 30-day Guest member.   Some trips are BCMC members only.
The Emmons Glacier route is probably the second-most popular route (after Disappointment Cleaver) and arguably the easiest route on Mount Rainier. But don't be fooled - this 14,410' giant can really give you a run for your money when it comes to man-eating crevasses and crazy weather. Expect 30-35 degree glacier slopes, route-finding through crevasses, and the potential for a 12+ hour summit day. 
Participants should have glacier travel and crevasse rescue training, AST1 or better, and mountaineering experience on F or PD- routes (or better). Altitude can also be a factor on Rainier, so some experience above 10,000' is beneficial, though not required. 
The schedule will look something like this:
Thursday, June 30: Drive down from Lower Mainland, camp at White River campground (near trailhead) or Glacier Basin. Obtain permits. 
Friday, July 1: hike to Camp Schurmann, just under 10,000 feet. Early bedtime
Saturday, July 2: Summit Day and back down to either Camp Schurmann, Glacier Basin Camp, or White River (depending on how we are feeling)
Sunday, July 3: Hike out (if not already at White River), have a celebratory lunch (optional), and drive home
This trip will only go if avalanche conditions are reasonable, and weather forecast looks promising. Final decision to be made the week before the trip based on forecast and discussions with guides/rangers. 
I'll send out a spreadsheet a little closer to the trip date to work out group gear and carpooling. 
Any questions in the meantime, feel free to shoot me an email, text, or call. 
PS - the photos below were taken in early August 2015 after an unusually low snow year. I expect the glacier to be much smoother, less crevassed, more filled in this year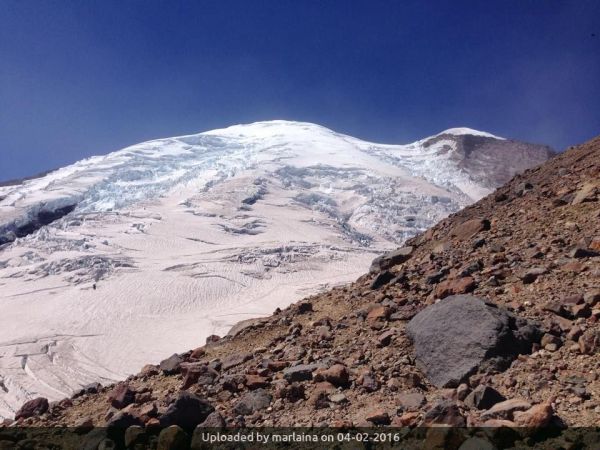 Other trips or events organized by this BCMC member

Learn critical glacier travel safety skills essential for summer mountaineering

Learn the basics of top-roping outdoors - no experience required!

Will you know what to do if things go wrong? Learn to be self sufficient on the rock