Name: Snow Shelter Workshop *FULL*
Starts: Sat Apr 02, 2016
Meetup: TBD
Return: Sun Apr 03, 2016
Registration opens: Fri Mar 04, 2016
Event category: Instructional Program
Difficulty grade: B2 [?]
For members only: Yes
Screening used: Yes
Max participants: 12
Organizer: Brian J Wood

Profile info:
Will you be using skis? Splitboard? Snowshoes?
Is there any particular type of Snow Shelter you want discussed?
You must login in order to sign up online for one of the BCMC Trips. If you don't have a BCMC membership account then please obtain one.  If you'd prefer to learn more before joining then please join as a 30-day Guest member.   Some trips are BCMC members only.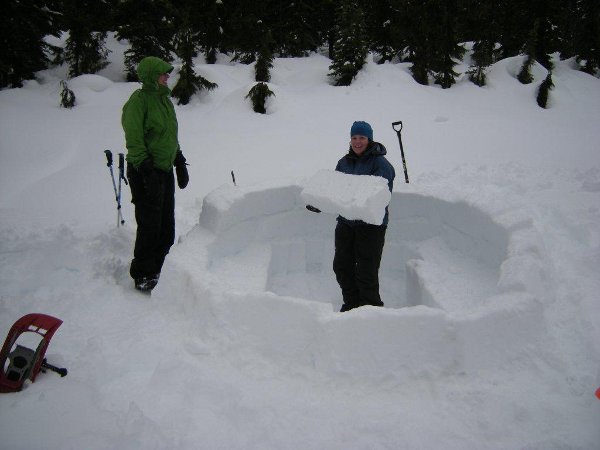 Using what you learned from the March 31st "prep" evening session, you'll apply it in a real situation in the backcountry.  Over this weekend, we'll go to Paul Ridge (between Red Heather and Elfin Lakes huts in Garibaldi Park) on skis or splitboards, construct some snow shelters, and then camp in them overnight to test them out. Snowshoers will be considered, but please contact the trip organizer Brian before signing up to make sure you can be accommodated. 
Bring your usual ski/splitboard set up, your normal winter travel gear, your avalanche gear (shovel, probe, beacon), some extra warm winter clothes including extra gloves/mitts, and warm night gear to sleep in. If you have a bivy sack and/or a snow saw, then please bring those. 
Once you've been confirmed, one of the organizers (or a website administrator) will add your name to the March 31st pre-trip session at: https://bcmc.ca/m/events/view/1456808783
---
Course Registration:
The participant fee is $25.  There will be two instructors, a minimum of 6 participants and a planned maximum of 10 participants. 
The registration process to be confirmed is:
a) you'll be placed on the Waiting List where you can pay online via the "Pay Now" button.[1] 
b) After payment, you'll be moved to the Confirmed List  and sent an email notification.
   [1] If you plan to pay by personal cheque, please contact a course organizer ASAP.
IMPORTANT:  we need your emergency contact information.  If you haven't done so, please add it to your BCMC account by clicking on "My Account" in the top-right corner of our club website, then select "Edit Emergency Contact" under "Manage My Account" in the left column.
Waiver/Medical:
Every participant must have read and agree to ("signed") the club's online Waiver.  In addition, those with potential medical issues, that might affect their course participation, need to contact the course organizer ASAP after registering for this course.
Schedule Changes and Cancellations:
This course is weather-dependent and may be rescheduled in case of suspected poor weather.  If the course is rescheduled to another weekend that does not fit into your personal schedule then a full refund will be issued.  IMPORTANT: cancellation fees may apply in case of a cancellation by a participant; please review the BCMC Course Refund Policy for detailed information.
Other trips or events organized by this BCMC member

A crossover backpack between Cheakamus Lake and Black Tusk meadows.

Date is tentative as this trip requires TWO independent leaders with at least TWO cars to handle shuttle

This "prep" session is ONLY for those confirmed to attend the Snow Shelter Workshop on April 2/3 weekend.