Name: BCMC Start of Summer BBQ **Everyone Welcome**
Starts: Fri May 27, 2016
Meetup: Brian Wood's House, after 6pm
Return: Fri May 27, 2016
Registration opens: Mon Mar 07, 2016
Event category: Other
Difficulty grade: A1 [?]
For members only: No
Screening used: No
Max participants: -
Organizer: Ben Singleton-Polster

Profile info:
You must login in order to sign up online for one of the BCMC Trips. If you don't have a BCMC membership account then please obtain one.  If you'd prefer to learn more before joining then please join as a 30-day Guest member.   Some trips are BCMC members only.
Attention: Due to an unfavorable weather forecast, the location of this Friday's BCMC/FMCBC BBQ (May 27th) has been changed to Brian Wood's house:
1844 Acadia Road, Vancouver - 6:00 PM
ALL MEMBERS INVITED.  The BCMC will be hosting a beginning of summer BBQ.  This is an opportunity to have BCMC members come hang out, meet trip partners and discuss summer plans, the great ski season, etc.  We'll meet at Brian's House any time after 6 PM... Please bring food, drinks, maybe a folding chair and (important!) if you have a BBQ (grill), please bring it.  The BCMC will chip in $5 for fuel if you offer to share with other club members. 
 > the BCMC will provide some finger food of the savory and sweet variety. 
 > can someone bring a plater of savory appitizers?
 --> bit-size fruit pieces?
 --> Veggie platter with dip? 
 > the BCMC will reimburse the cost of buying them. 
 > please let me know if plan to bring a portable BBQ :-)
This will be a opportunity for the FMCBC people attending the FMCBC AGM to meet their billets (We are still looking for more people to host so please get in touch if you can). 
The exact location will be Brian Wood's House.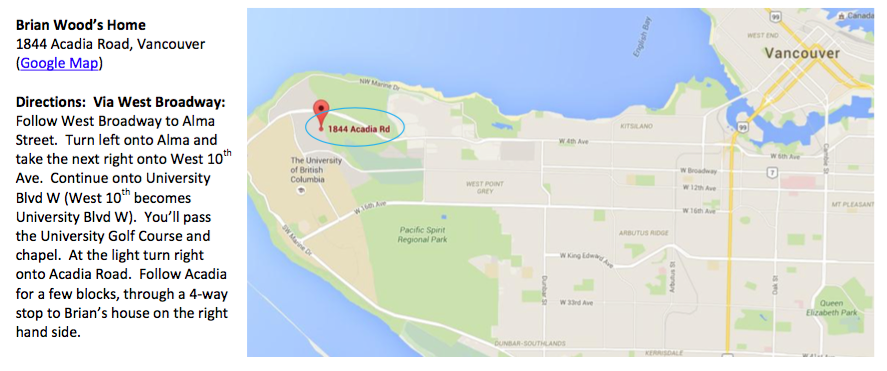 Please contact one of the organizers if you can bring a slackline and set it up.
This event is a great place to meet other members to discuss recent trips and your plans for future ones.  Don't forget to bring stories and tall tales of your recent adventures.
See you there!!!
Other trips or events organized by this BCMC member

A trip to clear alder off the road to Lizzie Lake
Movie about proposed large-scale ski resort in the Purcell Mountains
Pinecone Burke Provincial Park, contains old-growth forests, alpine lakes, remnant ice fields