Name: "Which one of you is the guide?"
Starts: Tue Apr 12, 2016
Meetup: ANZA Club @ 7:15pm
Return: Tue Apr 12, 2016
Registration opens: Wed Mar 23, 2016
Event category: Social
Difficulty grade: A1 [?]
For members only: No
Screening used: No
Max participants: -
Organizer: David Scanlon

Profile info:
You must login in order to sign up online for one of the BCMC Trips. If you don't have a BCMC membership account then please obtain one.  If you'd prefer to learn more before joining then please join as a 30-day Guest member.   Some trips are BCMC members only.
Girls & Mountains Presentation: "Which one of you is the guide?" The story of an all-women's, unguided expedition to the top of South America: Aconcagua
Girls and Mountains are three women who can't climb enough mountains! We met through the ACC and BCMC and have been climbing together ever since. A seed was planted to climb the highest peak outside of Asia and we agreed it had to be done! Our goal was to complete an all women's, self-propelled ascent of Aconcagua, but what we achieved was so much more than that. Through high winds, snow, altitude, hunger, and heavy packs we trudged on when many other teams turned back, becoming "famous" on our side of the mountain. One nickname was the "Three Canadian Chicas", since we were the only all women's team, guided or not, demonstrating to many that it may not be a common thing to see in that region, but that it's possible. This presentation will outline what it takes to prepare for an expedition like this, as well as tell the story of our journey. Come join us to learn a thing or two, but more importantly for a laugh!
Everyone is welcome[2]
 
[1] ... visitors, members and guests. The meeting will take place at the Vancouver ANZA Club main floor (corner of 8th Ave and Ontario) on Tuesday April 12th, 2016. The entrance door opens shortly after 7pm and the BCMC Social is scheduled to begin at 7:30pm.  


[2] Note: you must be 19+ years old to attend and may be asked to sign-in at the door to ensure we don't exceed 135 people in the hall.
A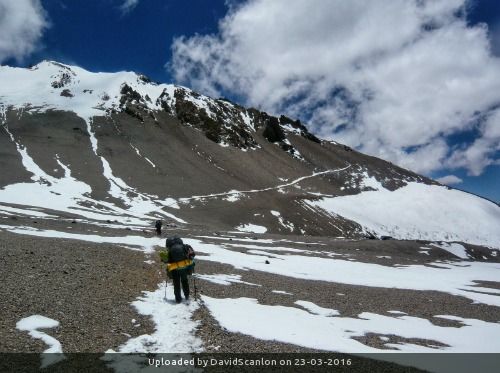 Other trips or events organized by this BCMC member

THE BCMC WILL BE HAVING IT'S DISPLAY IN THE LOBBY

we will be clearing snow from the spearhead hut site reading it for construction.