Name: Matier and Joffre
Starts: Sat Jun 11, 2016
Meetup: Car camping Friday night. Approx 7am start
Return: Sun Jun 12, 2016
Registration opens: Tue May 24, 2016
Event category: Mountaineering
Difficulty grade: C3/4 [?]
For members only: Yes
Screening used: Yes
Max participants: 8
Organizer: Trevor Short

Profile info:
Give me an overview of your mountaineering experience/training.
You must login in order to sign up online for one of the BCMC Trips. If you don't have a BCMC membership account then please obtain one.  If you'd prefer to learn more before joining then please join as a 30-day Guest member.   Some trips are BCMC members only.
We will be climbing Mt. Matier via the northeast spur (PD+) on Saturday followed by Joffre Peak via the southeast face (also PD+) on the Sunday. We will approach from the Cerise Creek Trail which passes by Keith's Hut. 
All participants must have either climbed with me before or have participated in a similar bcmc trip which I can verify with the organizer. 
Tentative plan will look something like this:
Friday night - car camp near/at trailhead 
Saturday - leave around 7am, arrive at Motel 66, setup camp and ditch any non-summit gear in the tents, head up Matier and back to camp
Sunday - head up Joffre and back down to camp, pack up and hike out to cars, celebratory beer(optional) 
All participants will need a full complement of glacier travel/general mountaineering gear excluding rope (I have 1 so only one other participant needs one) and camping gear. 
Welcome to Motel 66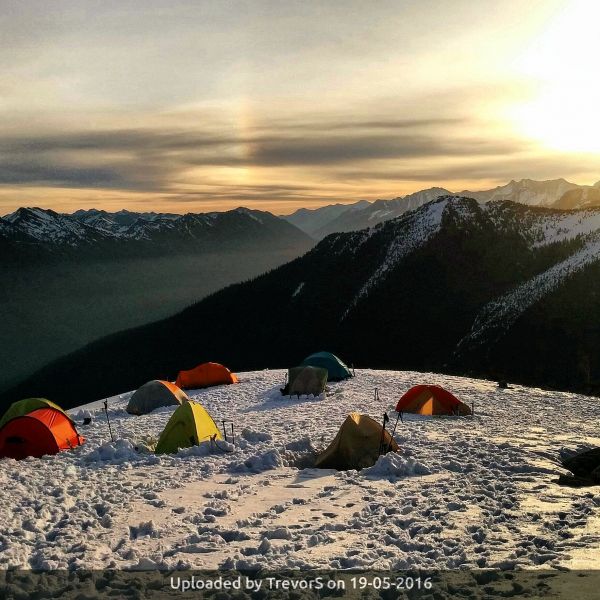 Other trips or events organized by this BCMC member

A day of ski touring up on Zoa Peak in the Coquihalla

Ice Climbing on the Seracs near the lower section of the Coleman Glacier on Mt Baker WA

Some Wednesday cragging in squamish